Ambassador of Uganda to the United States: Who Is Mull Katende?
Tuesday, November 28, 2017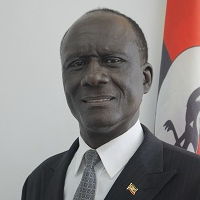 Mull Katende
The East African nation of Uganda recently dispatched one of its top diplomats to serve as its new ambassador to the U.S. Mull Katende, who is one of only six of the thirty-five Ugandan ambassadors who are also career diplomats, succeeds Oliver Wonekha, who served in Washington starting in July 2013.
Katende presented his credentials on September 8, 2017, to President Donald Trump in a ceremony at the White House. According to Ugandan press sources, Katende's appointment was precipitated by a need for someone with broad skills and deep experience to deal with the new Trump administration.
Born circa 1957, Mull Sebujja Katende grew up in Rugaaga sub-county, attended Kyarubambura Primary School, and graduated King's College Budo, an old and prestigious secondary school located in Wakiso, about nine miles from the Ugandan capital of Kampala, in 1975. He completed his undergraduate studies at Makerere University in Kampala in 1979, and capped his education with a year of studies at Oxford University's Keble College in 1983-1984.
A longtime diplomat with the Ugandan Ministry of Foreign Affairs, Katende served as Uganda's
ambassador to Sudan from January 2003 to 2008, when crises in both the Darfur and South Sudan regions reached critical states.
From September 2008 to mid-2017, Katende was Uganda's top diplomat in Addis Ababa, Ethiopia, where numerous United Nations, African, and regional organizations have their headquarters. Katende served as ambassador to Ethiopia, with concurrent accreditation to Djibouti, the UN Economic Commission for Africa, the Intergovernmental Authority on Development (IGAD) (an eight-country trade bloc comprising Djibouti, Eritrea, Ethiopia, Kenya, Somalia, South Sudan, Sudan, and Uganda), and the African Union.
Mull Katende and his wife, Maliam, have a son, Hassan Katende, who works for the African Union Commission.
-Matt Bewig
To Learn More:
Amb Katende Roots for Construction of Uganda's Chancery in Ethiopia (by Kim Aine, ChimpReports)
Uganda's New Ambassador to the US – H.E. Mull Sebujja Katende Presents Credentials to President Trump (Ugandan Diaspora News)
In Uganda, It is more about Trade than Aid-Ambassador Mull Katende (by Ajong Mbapndah L, PanAfrican Visions)