Ambassador of the Solomon Islands to the U.S.: Who Is Robert Sisilo?
Wednesday, September 06, 2017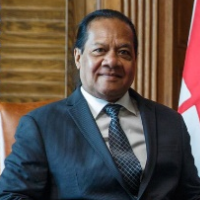 Robert Sisilo
The new ambassador of the Solomon Islands to the United States, Robert Sisilo, presented his credentials to President Donald Trump on July 21, 2017. Sisilo is a career diplomat who is also serving as the Melanesian nation's ambassador to the United Nations (since January) and Canada (since April). Solomon Islands has a population of about 600,000.
Born in 1956, Robert Sisilo grew up in Sikaiana, a small atoll in Malaita Province, and graduated King George VI National High School in Honiara, Solomon Islands, in 1978. He went on to earn a B.A. in History and Politics at the University of the South Pacific in Suva, Fiji, in 1982.
Sisilo joined the Solomon Islands Ministry of Foreign Affairs in 1983, serving early career assignments as desk officer, chief desk officer, and senior desk officer from January 1983 to September 1985.
He also continued his education by earning graduate degrees at universities in three different continents over the next 11 years. He earned a Certificate in Diplomacy at Oxford University in 1986; an M.A. in International Diplomacy at the Fletcher School of Law and Diplomacy at Tufts University in 1989; and an M.A. in International Relations at the University of Wollongong in Wollongong, Australia, in 1994.
From 1986 to 1991, Sisilo was chargé d'affaires at his country's Permanent Mission to the United Nations in New York.
While serving as his nation's deputy secretary of foreign affairs in 1996, Sisilo was reportedly part of a government delegation that was briefly abducted at gunpoint by Papua New Guineans who had crossed into Solomon Islands territory.
From 1996 to 2005, Sisilo was ambassador to the European Union, Belgium, France, Germany, the Netherlands, and the United Kingdom, as well as permanent representative to the World Trade Organization in Geneva, Switzerland.
From May 2005 to July 2008, Sisilo served as permanent representative of the Pacific Islands Forum, an organization comprised of 18 Pacific Island countries, to the World Trade Organization in Geneva. The members of the Forum are Australia, Cook Islands, Fiji, French Polynesia, Kiribati, Marshall Islands, Micronesia, Nauru, New Caledonia, New Zealand, Niue, Palau, Papua New Guinea, Samoa, Solomon Islands, Tonga, Tuvalu, and Vanuatu.
Leaving Solomon Islands service for a short while, from November 2008 to November 2010, Sisilo was the acting secretary for foreign affairs and trade of neighboring Nauru, and served as its multilateral trade adviser.
Sisilo served a series of brief assignments, including as trade envoy from December 2010 to June 2011, as permanent secretary in the Ministry of Foreign Affairs and External Trade from July 2011 to March 2012, and a brief stint, from March to May 2012, as permanent secretary in the Ministry of Police, National Security and Correctional Services.
Sisilo then returned to his job as trade envoy, serving from May 2012 to June 2014.
Robert Sisilo and his wife, Priscilla Sisilo, have two children. Considered a leader of the Sikaiana people, in 2016 Sisilo served as sponsor of the Tu Ata Games, which celebrate traditional Sikaiana sport and culture. He has also been an advocate for women's rights in his country.
-Matt Bewig
To Learn More:
Trump Wants Closer Security Ties with SI (Solomon Star)
Sisilo Labels Services to MOI 'Pathetic' (by Brian Lezutuni, Island Sun)
Sisilo Welcomes the Proposed Malaita Aummit (Solomon Star)