Ambassador of Sweden to the United States: Who Is Karin Olofsdotter?
Sunday, December 03, 2017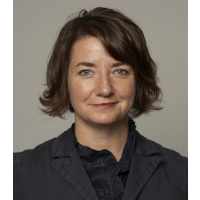 Karin Olofsdotter
Sweden has sent a woman to serve as ambassador to the U.S. for the first time. Karin Olofsdotter, who served as director-general for trade in the Swedish Foreign Ministry starting in September 2016, assumed the post on September 1, 2017, and presented her credentials to President Donald Trump a week later. She succeeds Björn Lyrvall, who served in Washington from September 2013 to 2017. Olofsdotter, who previously lived in the U.S. for about five years, recently reflected that, "the United States is an amazing, frustrating place."
Born June 16, 1966, to small business owners Olle and Eivor Svensson, Karin Ulrika Olofsdotter grew up near Halmstad, Sweden. As a teen, her favorite movie was Grease, her favorite band was Vangelis, and her favorite hobby was golf. She graduated Kattegat Secondary School in 1987, and spent a year as an exchange student in Egg Harbor Township, New Jersey, near Atlantic City.
As a college student at the University of Lund, Olofsdotter spent eight months studying in Moscow, as well as a year studying at the UCLA Anderson School of Management. She also worked for half a year in New Zealand as a bartender in her early twenties. She earned a B.A. in Psychology, Economics, and Russian at Lund in 1994.
Olofsdotter joined the Swedish Foreign Service in 1994. Her first foreign posting was in Moscow, where she was primarily responsible for covering issues related to Belarus. She also served on the Swedish delegation to NATO.
Olofsdotter next served at Sweden's mission to the European Union (EU) in Brussels, Belgium, and chaired the EU's Political-Military Group during the Swedish presidency of the EU in 2001.
Back in Stockholm, Olofsdotter served as chief of staff to three successive Swedish foreign ministers: Laila Freivalds (2003-2006), Jan Eliasson (2006), and Carl Bildt (2006-2008).
Olofsdotter's first posting in the United States, from August 2008 to June 2011, was as minister-counselor and deputy chief of mission at the Swedish Embassy in Washington, DC.
She then served her first ambassadorship, as envoy to Hungary from September 2011 to August 2014.
Returning to Stockholm, she was deputy director general for trade at the Ministry for Foreign Affairs starting in September 2014, where her focus was on the EU internal market and the promotion of Sweden. In September 2016, she was promoted to director-general for trade.
Olofsdotter is married to Hans Martin Bengtsson, with whom she has two children, Nils and Anna Bengtsson. She speaks Russian, French and English.
-Matt Bewig
To Learn More:
Karin Olofsdotter Loves her Mission (by Marijana Milenkovic, Hallandsposten) (machine translated from the original Swedish)
Karin Olofsdotter - New Ambassador to US (by Henrik Martinell, Swedish Radio) (machine translated from the original Swedish)
Xpat Interview: Karin Olofsdotter, Swedish Ambassador to Hungary (by XpatLoop)
The Swedish Ambassador's Search for Answers in Trump Country (by Greg Jaffe, Washington Post)
Speaker Bio (Aidex)