Ambassador of Seychelles to the United States: Who Is Ronny Jumeau?
Monday, November 27, 2017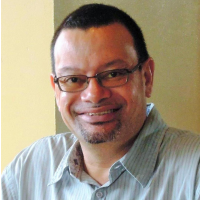 Ronny Jumeau
An island nation whose very survival is threatened by global warming has sent its top diplomat to Washington even as the federal government in the United States seems overrun with climate science deniers. The Seychelles, a tropical nation of about 95,000 people in the Indian Ocean spanning an archipelago of 115 islands, made Ronald Jean "Ronny" Jumeau its ambassador to the U.S., with concurrent accreditation to the United Nations (since May 2017). He presented his credentials to President Donald Trump on September 8, 2017. Jumeau, who previously served as Seychelles' man in Washington from September 2007 to September 2012, succeeds Marie-Louise Potter, who served from 2012 to 2017.
Since 2012, Jumeau has been the Seychelles roving ambassador for climate change. He has been chair of the Steering Committee of the Global Island Partnership since 2013 and chief spokesperson of the Alliance of Small Island States since 2012.
Born January 24, 1957, in Dar es Salaam, Tanzania, to Esme and Monita (Pool) Jumeau, Ronald Jean Jumeau graduated Seychelles College, a secondary institution, in 1975.
Jumeau started his career as a journalist as a reporter for the Government Information Services from 1978 to 1980, and was the Seychelles stringer for Reuters International News Agency from 1980 to 1983. He was the chief editor of the government-owned Seychelles Agence Presse and of the government daily newspaper Seychelles Nation for much of the 1980s. From 1986 to 1989, he was a journalism instructor at the School of Media Studies at Seychelles Polytechnic.
Jumeau served as an advisor with special press duties in the Ministry of Education from 1991 to 1993. Subsequently, he served as director of research in the Office of the President and concurrently secretary of four inter-ministerial cabinet committees from 1994 to 1998. From 1995 to 1998, he was in charge of the government's relations with the National Assembly.
Jumeau moved up in the world of Seychellois politics in 1998, when he replaced his father, Esme Jumeau, as minister for agriculture and marine resources. In January 2000, he moved on to minister for culture and information, and then to minister for the environment from September 2001 to 2003, and minister for the environment and natural resources from 2003 to 2007.
At the Earth Summit in Johannesburg in August 2002, Jumeau, while urging the United States and other rich countries to support the Kyoto Protocol after President George W. Bush refused to do so, said, "The US is obviously the biggest polluter of all. To them, maybe we don't figure in the grand scheme of things, maybe we don't have clout in the World Trade Organisation, maybe in the United Nations we are but one vote, so people think we can be ignored ... but our whole country will disappear one day."
In 2009, Jumeau reiterated his position regarding wealthy, polluting nations and poorer island nations by saying, "Let's say my neighbour flooded my house entirely on his own, while I didn't contribute. Yet, I have to now borrow money from him, then pay him interest for the rest of my life, in order to clean the mess in my house that he is responsible for. This is dishonest."
Jumeau made his diplomatic debut in a big way, serving as the Seychelles permanent representative to the UN from 2007 to 2012. He was also concurrently accredited as ambassador to the U.S., Canada, Brazil, and several Caribbean island nations.
Since 1995, Jumeau has been a member of the Central Committee of the Seychelles People's Party, the Seychellois center-left party. In 1992 and 1993, he was a member of its delegation to the first and second Seychelles Constitutional Commissions, which yielded a new Constitution for the nation.
Ronny Jumeau is divorced, and has one child, Christine. He speaks Seychelles Creole, English, and French.
-Matt Bewig, David Wallechinsky
To Learn More:
New Permanent Representative of Seychelles Presents Credentials (UN Press Release)
Interview with Ambassador Ronny Jumeau, Ambassador for Climate Change and SIDS, Seychelles (video)
Bio at Revolution Film Website
At Climate Summit, They're Feeling like Deserted Islands (by Margot Roosevelt, Los Angeles Times)