Ambassador of Russia to the United States: Who Is Anatoly Antonov?
Sunday, September 10, 2017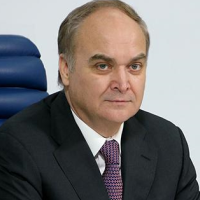 Anatoly Antonov
One of the leading figures in the Trump family-Russia scandal has completed his assignment and left the United States. Sergey Kislyak has been connected by investigators to the alleged collusion between the Trump campaign and the Russian government to throw the 2016 presidential election to the Republican. According to Russian press reports, Kislyak may become an adviser to President Vladimir Putin.

Kislyak was replaced as of August 21, 2017, by Anatoly Antonov, a Russian military officer and diplomat who took his post in Washington on September 1 and presented his credentials to President Donald Trump on September 8, 2007. He has been deputy minister of foreign affairs since December 2016. Since 2015, he has been the subject of economic and visa sanctions instituted by the European Union and Canada in response to Russia's military interventions in Ukraine.
Anatoly Ivanovich Antonov was born on May 15, 1955, in Omsk, a city in southwestern Siberia. He earned a B.A. and an M.A. in International Relations at the Moscow State Institute of International Relations in 1978 and 1983, respectively. Later, in 2012, Antonov earned a Ph.D. in Political Science at the Institute of World Economy and International Relations in Moscow, with a dissertation entitled, "Controlling nuclear weapons as a factor in ensuring national and international security."
Antonov began his diplomatic career in 1978, spending the next 33 years at the Soviet Ministry of Foreign Affairs and its successor, the Russian Ministry of Foreign Affairs. He specialized in arms control, the patchwork of treaties that try to regulate and limit the spread of nuclear, chemical, conventional, and biological weapons. In the early 2000s, he was deputy permanent representative to the U.N. organizations in Geneva, Switzerland.
From 2004 to 2011, Antonov served as director of the Foreign Ministry's Department for Security and Disarmament, where he was Russia's point man on all disarmament issues. He served as lead negotiator in talks to forge the New START Treaty in 2010, working with US diplomat Rose Gottemoeller, who is now deputy secretary general at NATO.
An officer in the Russian Army since 1990 and currently a general, in February 2011 Antonov left the Foreign Ministry to accept President Dmitry Medvedev's appointment as deputy minister of defense. Over the next several years, Antonov emerged as a vocal proponent of Russia's increasingly aggressive foreign policy. Known as a "bull terrier," Antonov accused the West of waging an "information war" against Russia. He said the West masterminded the ouster of Ukraine's pro-Russia president, Viktor Yanukovych, in February 2014 in order to "contain" Russia by making Ukraine into a "frontline of confrontation."
Antonov also supported and helped plan Russia's invasion and annexation of the Crimea, as well as Russia's support for pro-Russian militias in Ukraine. For these reasons, Antonov was personally sanctioned by the European Union and Canada in February 2015. He has not been sanctioned by the United States. Antonov has been involved in negotiations with the United States regarding the air wars conducted by both countries in Syria.
Antonov left the Defense Ministry in December 2016 and returned to the Foreign Ministry as a deputy minister. He has kept a lower profile, probably because he has been rumored to be heading to the U.S. since Fall 2016. At first, Antonov's name surfaced as a replacement for Vitaly Churkin as Russia's envoy to the UN, but in February he was named the main candidate for ambassador to the U.S. The Russian legislature endorsed the appointment on May 18.
Antotov is fluent in English and Burmese.
-Matt Bewig
To Learn More:
Putin Names Hardliner Anatoly Antonov as Russia's US ambassador (by Shaun Walker, The Guardian)
Russian Diplomacy about to Get Tougher Edge in Washington (by Ali Watkins, Politico)
Deputy Foreign Minister Anatoly Antonov Named Russian Ambassador to U.S. (Moscow Times)