Ambassador of Moldova to the United States: Who Is Aureliu Ciocoi?
Tuesday, December 05, 2017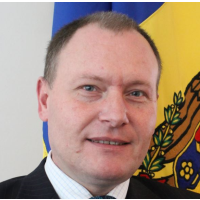 Aureliu Ciocoi
The eastern European nation of Moldova has sent its first ambassador to Washington in two years. Career diplomat Aureliu Ciocoi was appointed ambassador in June 2017 and presented his credentials to President Donald Trump on September 8, 2017. A Romanian language-speaking country wedged between Romania and Ukraine near the northwest coast of the Black Sea, Moldova was part of the Soviet Union from 1940 to 1991, when it declared independence. Ciocoi, who most recently served as Moldova's ambassador to China and Vietnam, succeeds Igor Munteanu, who left the U.S. in 2015.
Speaking at The Heritage Foundation on October 3, Ciocoi accused the Russian regime of Vladimir Putin of trying to destabilize Moldova and other nearby countries through television propaganda and by maintaining 1,500 non-peacekeeping troops in the Transdniester region of eastern Moldova.
Aureliu Ciocoi was born on June 5, 1968. Like many post-Soviet east European diplomats, Ciocoi enjoyed a first career as a reporter. He studied journalism at Moldova State University in Chisinau, Moldova's capital and largest city. He wrote for several newspapers, including Viata Satului (Village Life) from 1988 to 1989; Cuvantul (The Word) from 1989 to 1990; Curierul de searã (Evening Courier) from 1990 to 1991; and Sfatul ]ãrii (National Counsel) from 1991 to 1992.
After Moldova declared independence in August 1991, its newly created Foreign Ministry needed diplomats untainted by service to the former regime. Ciocoi began studying International Relations at the National University for Politics and Public Administration in Bucharest, Romania, in 1992, where he earned a doctorate in 1996.
Ciocoi also joined the Moldovan Foreign Ministry in 1996. His first assignment was to take a one-year course of study for young diplomats from Central and Eastern Europe. The program was run by the German Ministry of Foreign Affairs in Bonn, where Ciocoi lived until graduating in 1997.
Ciocoi's first job title at the Ministry was as second secretary in the Department for European Organizations from 1996 to 1998, followed by service as head of that department, which was responsible for cooperation with the Council of Europe and European integration, from 1998 to 2001.
His first foreign posting had him return to Bonn as first secretary at Moldova's embassy branch office from 2001 to 2004.
Ciocoi spent the next four years in Chisinau, returning to lead the Department for International Law and Treaties from 2004 to 2005. He also served as head of the Council of Europe and Human Rights Division from 2005 to 2007.
Ciocoi returned to Germany for the following eight years, serving at the Moldovan Embassy in Berlin as a counsellor from 2007 to 2009, and as chargé d'affaires from 2009 to 2010. In those latter years, he served concurrently as chargé d'affaires at the embassy in Denmark.
In June 2010, Ciocoi was appointed to his first ambassadorship, as envoy to Germany. In March 2011, he was named non-resident ambassador to Denmark as well.
After spending the first nineteen years of his diplomatic career focused on Europe, Ciocoi himself was "surprised" when he was appointed to serve as ambassador to China, with concurrent accreditation to Vietnam, in October 2015. He served in Beijing until April 2017, when he was recalled in anticipation of his U.S. assignment.
Ciocoi knows several languages in addition to his native Romanian, including English, German, Russian, and French. He is married to Tatiana Ciocoi, a professor of philology at Moldova State University, with whom he has a child.
-Matt Bewig
To Learn More:
Aurelius Ciocoi was appointed the new Ambassador to the US, it was recalled in China (by Moldova Times) (machine translation from the original Romanian)
Interview – E.S. Aurelius Ciocoi: look with a kind of envy positive evolution of China's economic development (by Dan Tomozei, China Radio International) (machine translation from the original Romanian)