Ambassador of Jamaica to the United States: Who Is Audrey Marks?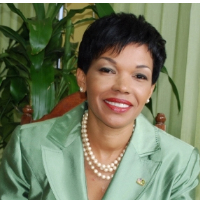 Audrey Marks
Audrey Patrice Marks, who served as Jamaica's ambassador to the United States from May 2010 to June 2012, has returned to Washington to serve a second stint as the island nation's envoy to the U.S. and the Organization of American States. On the job since September 12, 2016, Marks is Jamaica's first female ambassador to the U.S., and the first to serve two nonconsecutive terms in the same place.
Marks was born in St. Mary, Middlesex, Jamaica, on April 30, 1968. Her parents, Olive and Claude Marks, were small lbusiness owners. After attending Marymount High School in Highgate, Jamaica, she graduated Immaculate Conception High School in Kingston, circa 1986. She earned a B.A. in Business Management at the University of the West Indies in Mona, Jamaica, and, in 1991, an MBA at Nova Southeastern University's H. Wayne Huizenga School of Business and Entrepreneurship in Fort Lauderdale, Florida.
Marks worked for Air Jamaica for 10 years while also studying for her undergraduate degree, rising from filing clerk, to accounting clerk, and assistant to the vice president for marketing and sales. Toward the end of her time there, a relative suggested that she could make big money by smuggling drugs, a tempting thought, Marks later admitted, but she turned it down.
After leaving Air Jamaica, Marks founded six businesses, including a banana plantation, a real estate development firm, a transportation company, and a venture capital operation. Marks's biggest success came in October 1997, when she founded Paymaster (Jamaica) Limited, the country's first consolidated bill payment agency. It became a big success, with more than 1.4 million customers and more than $40 billion in annual transactions. In December 2015, she sold 80% of her ownership in the company to the Digicel Group, but remained its chairman.
In 2003, she became chairperson of the Tourism Product Development Company.
In May 2010, took over as Jamaica's representative to the Organization of American States, and serves as deputy chairman of the Urban Development Corporation, chairman of the Central Wastewater Treatment Company Limited, director of the board of RBTT Securities Jamaica Limited, Jamaica Trade and Invest, National Health Fund, and the University of the West Indies' Mona School of Business. She was also the first female president of the American Chamber of Commerce of Jamaica.
Marks and her husband, electrical engineering consultant Jassel Dunstan, have two daughters, Morgan and Madison.
-Danny Biederman, Matt Bewig
To Learn More:
Audrey Marks's Drugs Temptation (by HG Helps, Jamaica Observer)
Audrey Marks's Amazing Story (by Jean Lowrie-Chin, Jamaica Observer)
The US-Caribbean Strategic Engagement Act (HR4939) 2016 (by Audrey Marks, The Gleaner)
Living the Jamaican Dream in Truth and Courage (by Audrey Marks, Jamaica Observer)