Ambassador of Guinea to the United States: Who Is Kerfalla Yansané?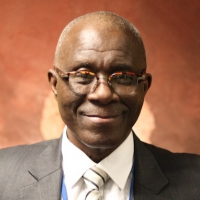 Kerfalla Yansané
Kerfalla Yansané became the 21st ambassador of Guinea to the United States at the beginning of 2018. Appointed on November 24, 2017, he presented his credentials to President Donald Trump on January 24, 2018. Guinea was the first country in Francophone sub-Saharan Africa to establish diplomatic relations with the U.S., following its independence from France in October 1958. He succeeds Mamady Condé, who served in Washington from 2015 to 2018.
Born in 1942 in Conakry what was then French Guinea, Kerfalla Yansané earned a State Doctorate (PhD) from University of Paris-Sorbonne, Faculty of Economics and Law, and a Diploma of Finance from the Institute of Political Sciences of Paris.
A lawyer by training, Yansané started his career not in his native Guinea, but in neighboring Senegal, as a law professor at University of Dakar (since 1987, Cheikh Anta Diop University), which was the largest and most prestigious university in French West Africa.
Despite his legal background, most of Yansané's government experience has been with economics and finance. He served as governor of the Central Bank of Guinea from 1986 to 1996.
In the late 1990s and early 2000s, Yansané was a development consultant with a number of institutions, including the World Bank, the International Monetary Fund, the UNDP Regional Bureau for Africa, the NEPAD Secretariat, the African Development Bank, and the United Nations Economic Commission for Africa.
Yansané served as minister of economy and finance from February 2010 to December 2013. Serving President Sékouba Konate's Transition Government at first, he retained the post after elections in 2010 resulted in a win for Alpha Condé. As minister, Yansané carried out negotiations with the International Monetary Fund regarding Guinea's debt that led to economic reforms allowing the country to carry out a program of debt relief. Those efforts led African Banker magazine to name him as African finance minister of the year in May 2012.
Nevertheless, that same year, Yansane was accused of signing a secret $25 million loan agreement with Palladino Capital, owned by Walter Hennig of South Africa, allowing Palladino to take ownership of a 30 percent share of the country's official mine holdings in the event of default. Yansane disputed the facts, but announced on June 21, 2012, the repayment of the loan in full.
After a cabinet reshuffle in January 2014, Yansané became minister of mines and geology, where he oversaw his specialty: contracts for oil exploration. One of the companies he dealt with Hyperdynamics of Houston, gained the right to explore for offshore oil off the coast of Guinea. They found nothing and filed for bankruptcy in December 2017. Yansané emphasized bringing in foreign investors, who have long lusted after Guinea's reserves of bauxite, iron ore, gold and other minerals.
In January 2016, Yansané was named minister of state to the presidency of the republic, the title he held before becoming ambassador.
Yansané has been active in several regional and international organizations, including the vice-chairman of the African Economic Research Consortium (1992-2007); member of the Policy Advisory Group of the Consultative Group to Assist the Poor through the extension of micro finance services (CIGAP, World Bank, 1998-2001); executive board member of the African Capacity Building Foundation (2002-2009); and member of the UN Committee for Development Policy (2004-2006).
Kerfalla Yansané is married and has two children.
-Matt Bewig
To Learn More:
Diplomatie: qui est Kerfalla Yansané, le nouvel ambassadeur de la Guinée aux Etats-Unis? (Africaguinee.com)
L'ancien ministre Kerfalla Yansané nommé ministre conseiller à la présidence de la République (by Mohamed Sylla, Conakryinfos.com)