Ambassador from United Arab Emirates to the U.S.: Who Is Yousef Al Otaiba?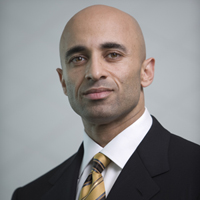 Yousef Al Otaiba
The United Arab Emirates (UAE) diplomat known as "the most charming man in Washington," and a close friend of presidential son-in-law Jared Kushner, lost some of his magic recently, following release of emails that link him to a major international fraud, suggest that his country coordinates closely with Israel, and reveal blunt criticism of President Donald Trump. Yousef Al Otaiba, who has been ambassador of the UAE to the United States since July 2008, has been a forceful voice against Iran, the Arab Spring protest movement, and neighboring emirate Qatar, which the royal family of UAE and others recently accused of supporting terrorism as a way of deflecting attention from their personal grievances against the royal family of Qatar.
Otaiba was born in Cairo, Egypt, on January 19, 1974, into a wealthy and politically powerful family. His father, petroleum magnate Mana Al Otaiba, was the UAE's first oil minister (1973-1990) and served as president of OPEC (Organization of the Petroleum Exporting Countries} a record six times. Mana had at least twelve children with four wives, including Yousef's Egyptian mother. Yousef Al Otaiba graduated Cairo American College in 1991, and, encouraged by then U.S. Ambassador to Egypt Frank Wisner, studied International Relations at Georgetown University, where he graduated in 1995. While at Georgetown, he played on the school's soccer team, making nine appearances and scoring one goal. When the team from Saudi Arabia trained at Georgetown for the 1994 World Cup, which was held in the United States, Otaiba served as a ball boy for the team.
After working in his family's automotive business, Otaiba studied as a fellow at the Industrial College of the Armed Forces at the National Defense University in Washington, DC.
In 2000, at age 26, Otaiba became the director of international affairs for Mohammed bin Zayed Al-Nahyan, the crown prince of Abu Dhabi. Bin Zayed is deputy supreme commander of the UAE Armed Forces, so in effect Otaiba worked for the UAE's defense minister for eight years.
In July 2008, Otaiba became UAE ambassador to the U.S. He began a diplomatic and public relations campaign to push the UAE's views, aided immensely by his country's willingness to spend money: as of 2013, the UAE spent more money on lobbying than any other foreign government. In 2015, the UAE paid lobbyists in the U.S. $13.5 million, with $6,5 million going to the Camstoll Group and $4.5 million to the Harbor Group.
In 2008, Otaiba immediately founded the Oasis Foundation. Among other activities, it has provided aid to poor neighborhoods in the U.S., paying for artificial turf soccer fields in New York, Los Angeles, Miami, Chicago and Washington DC. And it has made significant donations to hospitals, such as Johns Hopkins, the Cleveland Clinic, Mercy Hospital in Joplin, Missouri, and Children's National Medical Center in Washington. It has also donated money to a Baltimore food bank, the New York Police Foundation and the Joplin school system (to buy MacBook laptops).
In February 2016, the former executive director of the Oasis Foundation, Byron Fogan, an old friend of Otaiba's from his Georgetown years, was sentenced to 21 months in prison for spending foundation funds for personal indulgences.
Otaiba has been especially critical of Iran, whose radical brand of Shi'a Islam is viewed with alarm by Sunni Arab leaders, and of the Arab Spring protest movements, which threatened the power of people like Otaiba.
In one hacked email, sent the evening of the 2016 U.S. presidential election, the Huffington Post reported that Otaiba rhetorically asked Obama official Rob Malley, "On what planet can trump be a president??" Other emails and records, according to the Wall Street Journal, reveal that Otaiba received $66 million that was stolen as part of a $4.5 billion fraud against 1MDB, a government-run strategic development company in Malaysia. In his business life, Otaiba is connected with Densmore Investments Ltd in the British Virgin Islands and Silver Coast Construction and Boring in the UAE.
Otaiba and his wife, Abeer, a civil engineer originally from Egypt and founder of a luxury fashion company, have one son, Omar, and one daughter, Samia.
-Matt Bewig, David Wallechinsky
To Learn More:
The Qatar Crisis Offers a Window into Feuding within the Trump Administration (by Ishaan Tharoor, Washington Post)
Hacked Emails Show Top UAE Diplomat Coordinating With Pro-Israel Think Tank Against Iran
(by Zaid Jilani & Ryan Grim, The Intercept)
His Town: Yousef Al Otaiba is the most Charming Man in Washington (by Ryan Grim and Akbar Shahid Ahmed, Huffington Post)
United Arab Emirates Helps Joplin "Think Big" in Rebuilding Tornado-Scarred Schools (by Rajiv Chandrasekaran, Washington Post)
In Conversation: UAE Ambassador Yousef Al Otaiba (Aspen Ideas Festival)