All-Important Healthcare Penalty is Invisible in Sign-Up Pitches
Thursday, November 14, 2013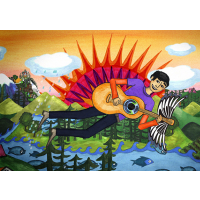 health care ad, Cover Oregon
Whether it's the federal (still under repair) website or those run by states to purchase health insurance, these online government portals have seemingly buried a key provision of the Affordable Care Act: the penalty for not signing up.
Under Obamacare, Americans who don't purchase insurance will be penalized. A family of two adults with two or more children, for example, would pay $285 or 1% of the family's income over the $20,300 filing threshold, whichever is greater.
But in most cases, the various government health exchange websites don't play up the penalty. Some have either buried this detail in the FAQ section, or left it out altogether.
The mandate was a critical element in the U.S. Supreme Court's ruling (pdf) that held up the Affordable Care Act. But multiple polls reveal the penalty is clearly unpopular with Americans, leading health exchange operators to play up the positive reasons for going along with the law.
"We feel that the carrot is better than the stick," Larry Hicks, a spokesman for Covered California, told The New York Times. "This is a new endeavor. We want people to come in and test our wares."
Upbeat promotion and cheery imagery are used by many states across the U.S. to dress up the new law, putting on a happy face to mask the penalty that lurks in the background, waiting to be unleashed in the event that citizens fail to comply.
California plays up the "peace of mind" you'll get after signing up. New York's insurance exchange site optimistically beams, "Today's the Day." Oregon created its own health website theme song, "Long Live Oregonians," and teamed with local musicians to participate in its media blitz.
Minnesota has employed images of Paul Bunyan and his blue ox, Babe, to serve as the mascots in the state's $9 million healthcare marketing campaign. "We liked Paul and Babe because everybody seems to recognize them," BBDO Proximity Minneapolis creative director Brian Kroening, in charge of the campaign, told Minnesota Public Radio. "They were easy to work with. We were looking for what was unique to Minnesota." The campaign's motto is "The Land of 10,000 Reasons to get Health Insurance."
Government officials also may be avoiding the penalty matter because the law lacks any teeth to enforce payment.
If a person is due a refund from the Internal Revenue Service, the government can deduct the penalty from the money owed. Otherwise, there isn't any legal mechanism to punish people for not paying.
"It might be that they want to be positive," Michael Cannon, director of health policy studies at the Cato Institute told the Times. "But it's also the case that an informed customer is not their best customer."
"The penalty, despite its unpopularity, is the glue that holds the Affordable Care Act together," the Times' Anemona Hartocollis wrote. "Unless people are forced to buy insurance, health policy experts say, young and healthy people may stay away, leaving only the more expensive patients in the plans, which will quickly drive up premiums."
-Noel Brinkerhoff, Danny Biederman
To Learn More:
Talk of Penalty Is Missing in Ads for Health Care (by Anemona Hartocollis, New York Times)
What is the Individual Mandate and when will it Take Effect? (by Noel Brinkerhoff, AllGov)
Is Chief Justice Roberts' View of Health Insurance Penalties as Taxes a Disguised Attack on Congressional Power? (by David Wallechinsky and Matt Bewig, AllGov)