Administrator of the Maritime Administration: Who Is Mark Buzby?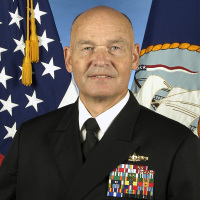 Mark Buzby
Mark H. Buzby, a retired U.S. Navy admiral, has been nominated by President Donald Trump to lead the Maritime Administration (MARAD). Located in the Department of Transportation, MARAD is responsible for waterborne transportation, including facilitating its use and overseeing its integration with other segments of the transportation system. The agency is responsible for the U.S. merchant marine and works to make sure American ships, ports, environment, safety and national security are protected. Buzby succeeds Paul N. "Chip" Jaenichen Sr., who served in the job starting in October 2013.
Born October 6, 1956, in Atlantic City, New Jersey, Mark Howard Buzby grew up in the historic Dennis Hotel (now Bally's Atlantic City), which his family had owned since 1867. His father, Walter J. Buzby II, was the third generation Buzby to run the hotel. His mother, Aino Buzby, grew up on a farm in Estonia, but escaped when Soviet troops invaded and then spent a year in a German forced-labor camp before ending up in Canada about five years after the end of World War II. His parents met in the Bahamas in 1954.
Buzby graduated Admiral Farragut Academy, a military-style college prep school in St. Petersburg, Florida, in 1975, which was also the year his family lost the Dennis hotel to bankruptcy.
Buzby earned a B.S. in Nautical Science, as well as a Coast Guard Third Mate License, at the U.S. Merchant Marine Academy in Kingsport, New York. He is a graduate of the Joint Forces Staff College and in 1991 earned concurrent master's degrees at the U.S. Naval War College and Salve Regina University in Strategic Studies and International Relations, respectively.
Commissioned in the Navy as a surface warfare officer in June 1979, Buzby served 34 years before retiring in May 2013 with the rank of rear admiral. Over the years, he served aboard numerous cruisers and destroyers including USS Connole, USS Aries, USS Yorktown, and USS Shiloh. Buzby commanded the destroyer USS Carney during its first Persian Gulf deployment.
During the Kosovo crisis of 1998-1999, Buzby, as U.S. 6th Fleet assistant operations officer, participated in combat operations as part of NATO's Operation Allied Force. He was then commander of Destroyer Squadron 31 during two deployments supporting operations in Iraq and Afghanistan.
Ashore, Buzby has served on the Navy staff as the Point Defense Anti-Air Warfare section head for Surface Warfare Division and as Aegis Combat System development officer. As a flag officer, Buzby has served on the Navy staff as deputy for Surface Ships, deputy for Surface Warfare and deputy for Expeditionary Warfare. As a captain, until 2004, he was commanding officer of the Surface Warfare Officers School Command. In 2005, he was promoted to rear admiral.
In May 2007, Buzby was put in charge of the prison camps at Guantánamo Bay. A few days later, a Saudi prisoner committed suicide by hanging himself. Another 24 prisoners were on a hunger strike. In July, Buzby announced that conditions for the remaining prisoners would be improved to promote "increased mental stimulation," such as improved recreation facilities and a weekly movie night for well-behaved prisoners. He also changed the policy of overwriting surveillance video recordings at Guantánamo. It also fell to Buzby to acknowledge for the first time the existence of a secret high-security section of the Guantánamo prison, Camp 7, that held 15 alleged senior al Qaeda captives.
Speaking to a Veterans of Foreign Wars Conference in March 2008, Buzby warned that torture leads to false confessions, and that more useful information could be obtained from prisoners by "just sitting down and having a conversation and treating them like human beings in a businesslike manner." He later said, "We use the Subway sandwich and the Big Mac."
Buzby remained in this position until May 27, 2008, when he was made deputy chief of staff for Global Force Management and Joint Force Operations at U.S. Fleet Forces Command. On October 16, 2009, he became commander of the Navy's Military Sealift Command, which consisted of 112 non-combatant ships with civilian crews. He remained in this position until his retirement on May 10, 2013.
After leaving the Navy, Buzby became president of the National Defense Transportation Association in November 2014. He also serves on the board of directors for Northeast Ship Repair, Admiral Farragut Academy, and the United Seaman's Service. He is also a member of the Safety and Reliability Review Board for Carnival Cruise Lines.
Mark Buzby and his wife, Gina, reside in Norfolk, Virginia. A lifelong yachtsman, Buzby owns a Grand Banks Eastbay 43 "NOR'EASTER" yacht that he sails all around Chesapeake Bay.
-Matt Bewig, David Wallechinsky
To Learn More:
Adm. Mark Buzby Nominated as Next Maritime Administrator (Maritime Executive)
Outdated Infrastructure Poses National Security Risk (by Mark H. Buzby, The Hill)
Rear Adm. Mark H. Buzby Retires After 34-Year Career (Maritime Executive)
Interview with Rear Adm. Mark H. Buzby: The State of U.S. Sealift (by J.R. Wilson, Defense Media Network)