Administrator of the General Services Administration: Who Is Emily W. Murphy?
Friday, September 15, 2017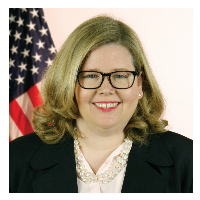 Emily W. Murphy
Donald Trump's nominee to run the General Services Administration (GSA) began her career working for the Republican Party. Fresh out of high school, Emily W. Murphy spent 15 months at the Republican National Committee (RNC) during the 1996 election cycle. Trump may hope he can rely on her partisanship to stymie a GSA Inspector General probe into his company's GSA lease for the building where the Washington Trump Hotel is located. The lease states that no "elected official of the government ... shall be admitted to any share or part of this Lease, or to any benefit that may arise therefrom." Nevertheless, GSA ruled in March that Trump's revocable trust exempted him from this provision, a decision two prominent government contracts law professors separately called "unbelievable," "unpersuasive as a matter of law," and a "clear contradiction of the lease terms."
An independent agency, GSA is the federal government's lead acquisition agency, providing everything from office supplies to automobiles to buildings for the U.S. government's workforce of more than one million employees. Since January, Murphy has served as White House liaison to acting GSA chief Tim Horne, but it is not known whether she had any input on the Trump Hotel GSA lease decision. The last permanent GSA chief was Denise Turner Roth, who served from March 2015 to January 2017.
Born circa 1974 in St. Louis, Missouri to James Joseph Murphy, Jr., and Mimi (Webster) Murphy, Emily Webster Murphy has a brother, James J. Murphy III, and a sister, Anne (Murphy) Hill. Her father was CEO of Murphy Company Mechanical Contractors And Engineers, Inc., a family-run construction contractor in St. Louis, while her mother was an attorney.
Emily Webster Murphy graduated her mother's alma mater, Villa Duchesne Oak Hill School, a Catholic school in St. Louis, in December 1991. Going east, she earned a B.A. in History and French at Smith College in 1995. She moved to Washington, DC, to work for the Republican National Committee from October 1995 to January 1997, and served as a Republican staff member of the House Small Business Committee from January 1997 to July 1998. Murphy started law school the following month at the University of Virginia, where she earned a J.D. in 2001.
Murphy began her legal career as an associate in the Government Contracts and Government Affairs practices at Wiley Rein LLP in Washington from October 2001 to December 2003.
Murphy joined the George W. Bush administration in January 2004, serving as a senior advisor on Government Contracts and Business Development at the Small Business Administration until February 2005. At that time, she joined GSA for the first time, serving as the agency's first chief acquisition officer until February 2007. At GSA she was involved in GSA's response to procurement audits that threatened to close a third of GSA's operations and lost $8 billion a year.
She worked for Miller & Chevalier from May to July 2007, leaving to work as vice president for Government Contracting and Compliance Programs at TerreStar Networks from August 2007 to November 2009, where she was responsible for all aspects of government contracting. Transferring to a subsidiary, she was general counsel and vice president for government operations at TerreStar National Services, Inc., from January 2009 to April 2011.
Murphy returned to the House Small Business Committee as senior counsel from April 2011 to May 2016, during the last nine months of which (September 2015 to May 2016) she was also policy director. She was the primary author of the small business contracting changes in the National Defense Authorization Acts of 2013, 2014, 2015, and 2016.
She served as counsel at the House Committee on Armed Services from May 2016 to January 2017, when she left to join the Trump administration.
-Matt Bewig
To Learn More:
Official Biography (pdf)
Trump Taps St. Louis Native to Head Federal Agency (by Chuck Raasch, St. Louis Post-Dispatch)
Trump's Nominee to Run GSA Is Respected Republican Hill Staffer (by Charles S. Clark, Government Executive)
GSA Approval of Trump Old Post Office Lease Whitewashes an Illegal Arrangement (by Charles Tiefer, Forbes)