Administrator of the Employee Benefits Security Administration: Who Is Preston Rutledge?
Wednesday, November 01, 2017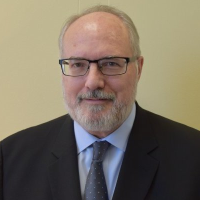 Preston Rutledge
The fate of the "fiduciary rule," a key protection for workers' retirement plans, will rest with Preston Rutledge, President Donald Trump's pick to be the next administrator of the Employee Benefits Security Administration (EBSA). Located in the Department of Labor, EBSA is responsible for protecting private pension plan participants and beneficiaries from the abuse or theft of their pension assets. The fiduciary rule was developed by Phyllis Borzi, who served as EBSA administrator from July 2009 to the end of the Obama administration. It requires financial advisers to act in the best interests of their clients in retirement accounts, but has been criticized by Trump. Rutledge's nomination must be confirmed by the Senate.
Born April 21, 1954, to Dr. Gene Preston Rutledge, Jr., a nuclear scientist who worked on the Manhattan Project as a student, and Mary Louise Rutledge. Eugene Preston Rutledge III graduated Skyline High School in Idaho Falls, Idaho, in 1972. He also attended Wood River High School in Hailey, Idaho, about 140 miles away, where he met Hope McKinstry Hadley, whom he married in November 1973. He was a freshman at the University of Idaho, where he earned a BS in Business in 1976.
Rutledge served in the Navy before earning a JD at The George Washington University Law School in 1984. He worked as a law clerk on the U.S. Court of Appeals for the Fifth Circuit and practiced employee benefits law at several law firms, including Crowell and Moring in Washington, DC. As a solo practitioner, he offered a 10% discount to clients who paid within 30 days. Rutledge returned to law school to earn an LLM (a master's degree in law) in Taxation at Georgetown University Law Center in 2002.
From 2001 to 2011, Rutledge made use of his new LLM in tax by serving the IRS as a tax law specialist in the Office of Chief Counsel and on the headquarters staff of the Tax Exempt and Government Entities Division.
In February 2011, Rutledge moved to Congress, serving as a senior tax and benefits counsel for the Senate Finance Committee and an aide to Sen. Orrin Hatch (R-Utah).
Rutledge has been married three times. In addition to his college marriage to Hope Hadley, Rutledge also married Grace Coppola, with whom he had two children, Charles and Andrew Rutledge. The couple separated in 1995 and divorced in 1997 after a bitter fight that included Grace levying false allegations of child abuse against Preston, for which the family court penalized Grace financially.
Undeterred by the institution of marriage, Rutledge married Julie Gackenbach, a lobbyist who owns Confrere Strategies in Washington, through which she has represented clients like the National Association of Mutual Insurance Companies and State Farm Insurance Companies. The couple apparently has a good sense of humor, for at a 2002 holiday party they entertained revelers with a revised version of the Rolling Stones classic song "Satisfaction," including the following lyrics:
I can't get no explanation
I must write my regulation
'Cause I write
And I write
And I write
And I write
Regulations, Regulations.
When I'm writing up the regs
And a man comes in to tell me
How helpful my regs can be
But they can't be too long
Or complicated
So says OMB [Office of Management and Budget]
I can't get no
Oh, no, no
Hey, hey, hey,
It's the White House's way.
-Matt Bewig
To Learn More:
Trump Nominates New Assistant Secretary of Labor (by Diana Britton, Wealth Management)
Preston Rutledge, Senior Aide on Senate Finance Committee, Could be Filling Phyllis Borzi's Old Post at DOL (by Mark Schoeff, Jr., Investment News)
Trump to Make Key Move to Kill Fiduciary Rule (FINSUM)
Phyllis Borzi Says Opponents of DOL Fiduciary Rule Face Uphill Climb to Further Delay or Dilute it (by Mark Schoeff, Jr., Investment News)