Solicitor General: Who Is Noel Francisco?
Wednesday, April 05, 2017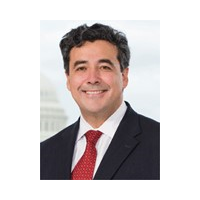 Noel Francisco
Noel J. Francisco, Donald Trump's choice to be solicitor general, was confirmed for the position on September 19, 2017, by the U.S. Senate in a 50-47 vote. An attorney who worked in the George W. Bush administration, Francisco had been serving as acting solicitor general since Trump appointed him to the position on January 23 and then officially nominated him on March 7.
Francisco is from Oswego, New York. He played trombone in the Oswego High School band and graduated from the school in 1987. He went to the University of Chicago, earning a B.A. in economics in 1991 and his law degree there in 1996. After graduation, he clerked for Judge J. Michael Luttig of the Fourth Circuit Court of Appeals and then for Supreme Court Justice Antonin Scalia.
Francisco worked for Cooper, Carvin and Rosenthal in Washington before joining the Bush administration in 2001 as associate counsel to Bush. Two years later, Francisco moved over to the Justice Department as deputy assistant attorney general. He held that job when Bush nominated Harriet Miers to be a Supreme Court justice. Francisco was a strong advocate for Miers, telling radio host Hugh Hewett: "I think the world of Harriet Miers. I think that Harriet is the fulfillment of the president's promise, yet again, to put forward individuals who are going to strictly apply the laws, and not make it up as they go along." Miers' nomination was eventually withdrawn after opposition from both sides of the aisle.
Francisco left government for the Jones Day law firm and became the head of the firm's government regulation practice. There, he proved to be a thorn in the side of Democrats. He argued the case of Zubik vs. Burwell, fighting the contraception mandate of the Affordable Care Act and got the Supreme Court to strike down President Obama's recess appointments to the National Labor Relations Board. He represented R.J. Reynolds Tobacco Company in its successful First Amendment challenge to a federal regulation requiring cigarette manufacturers to display graphic warning images on cigarette packages and statements correcting misleading information spread by the company. Francisco also won the appeal of former Republican Governor Bob McDonnell of Virginia, who'd been convicted of taking bribes from someone who wanted his product promoted in state government. Francisco persuaded the court that while McDonnell had taken the goodies, including a Rolex watch, it couldn't be proven that he'd done what was asked of him. And he represented the International Coal Group during a congressional investigation into the January 2, 2006, Sago Mine accident in West Virginia.
Francisco quickly found himself in the midst of a prominent case as acting solicitor general when he had to take the government's side in arguing that Trump's travel ban should be implemented. In a brief, he argued that "The power to expel or exclude aliens is a fundamental sovereign attribute, delegated by Congress to the executive branch of government and largely immune from judicial control." When a partner of his former employer, Jones Day, filed an amicus brief opposing the order, Francisco was forced recuse himself from further involvement in the case.
Francisco is a close personal friend of Sen. Ted Cruz (R-Texas). During the Florida recount following the disputed 2000 presidential election, Francisco helped Cruz prepare legal arguments to support the case in favor of George W. Bush.
In March 2002, Francisco and his wife, moved by the concept of international adoption, adopted a girl, Caroline, from Russia, "to show we're citizens of the world."
-Steve Straehley, David Wallechinsky
To Learn More: