Acting Director of Immigration and Customs Enforcement: Who Is Thomas Homan?
Monday, February 20, 2017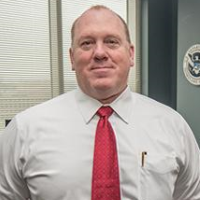 Thomas Homan
Donald Trump promised to deport undocumented immigrants and in Thomas Homan, who is the acting director of Immigration and Customs Enforcement (ICE), he has a man who won an award for deporting thousands of people.
Homan is from West Carthage, New York, in the far northern part of the state. He graduated from Carthage High School in 1979 and went to Jefferson Community College and subsequently the State University of New York Utica-Rome, where he earned a Bachelor of Applied Science in criminal justice.
Homan went to work for the West Carthage Police Department, as his father and grandfather had. In 1989, he moved to what was then the Immigration and Naturalization Service (INS). He was a Border Patrol officer and began to move up the ranks in the INS as a special agent and investigator.
By 2006, Homan was a special agent in charge for what had become ICE's Enforcement and Removal Operations (ERO) division. He was named ERO's assistant director for enforcement in 2009 and the following year was made deputy associate director for enforcement.
Homan moved to Washington as executive associate director of ICE in charge of ERO. He was so successful at his job that in 2015, he earned a Presidential Rank Award from President Barack Obama and the White House Office of Management and Budget for the thousands of deportations he had supervised.
Trump tapped Homan to lead ICE on January 30, 2017. At about that time, ICE appeared to step up its pace of raids and deportations. Homan agreed to sit down on February 14 of that year with the Congressional Hispanic Caucus to address its concerns about the raids, but later backed out of the meeting.
-Steve Straehley
To Learn More:
Meet the Man The White House Has Honored for Deporting Illegal Immigrants (by Lisa Rein, Washington Post)