Acting Director, Financial Crimes Enforcement Network: Who Is Jamal El-Hindi?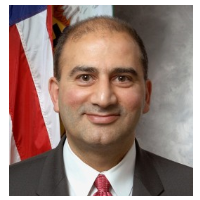 Jamal El-Hindi
In June 2016, Jamal El-Hindi began serving as acting director of the Financial Crimes Enforcement Network. Located in the U.S. Department of Treasury, FinCEN collects and analyzes data about financial transactions in order to enforce laws against domestic and international money laundering, terrorist financing, and other financial crimes.
Born March 27, 1963, in Syracuse, New York, Jamal Laurence El-Hindi was the fourth of five children of Ahmad, a Palestine-born engineer, and Elizabeth El-Hindi. His father was a Muslim and his mother a Catholic. Ahmad El-Hindi started his own company, Filtertech, and later founded the Ahmad and Elizabeth El-Hindi Foundation and funded the El-Hindi Center for Dialogue.
Jamal grew up as "a regular American kid," in the small town of Fabius, New York, just south of Syracuse. He earned a B.A. in Journalism at the University of North Carolina-Chapel Hill in 1985, a Diploma in International Relations at The London School of Economics in 1986, and two graduate degrees at the University of Michigan: a JD in 1990 and an M.A. in Modern Middle Eastern and North African Studies in 1994. He has published at least two articles on International Law issues related to Palestine.
El-Hindi was an associate at the Washington, DC law firm Patton, Boggs & Blow from October 1991 to November 2000. He practiced international law, focusing on cases relating to sanctions, export controls, foreign corrupt practices, foreign sovereign immunities, status of forces agreements, international trade and banking litigation.
Leaving private practice, El-Hindi began his Treasury Department career in December 2000 as legal counsel to the Office of Foreign Assets Control (OFAC), which administers and enforces economic sanctions imposed by the federal government. In June 2005 El-Hindi was promoted to associate director for Program Policy and Implementation, where he oversaw OFAC's Compliance Outreach, Licensing, and Policy Divisions.
El-Hindi moved to FinCEN in June 2006, serving as associate director of the Regulatory Policy & Programs Division until 2013, and of the re-organized Policy Division from 2013 to 2015. He became acting deputy director in January 2015, before being promoted to deputy director of FinCEN in May 2015, where he was responsible for directing the Policy, Enforcement, Intelligence, Liaison, Management and Technology Divisions before he became acting director.
El-Hindi is a past president of The Washington Foreign Law Society and currently serves on its advisory board.
Jamal El-Hindi is married to Jean (Sullivan) El-Hindi, with whom he resides in Vienna, Virginia. The couple has a daughter, Elizabeth, and a son, Jamal.
-Matt Bewig
To Learn More:
Jamal El-Hindi Named New FinCEN Deputy Director (FinCEN)
Jamal El-Hindi Talks to his Son about his Ancestors and his Childhood (StoryCorps.me) (audio)
The West Bank Aquifer and Conventions Regarding Laws of Belligerent Occupation (by Jamal El-Hindi, Michigan Journal of International Law, 1990) (paywall)
Compensation as Part of Equitable Utilization in the Israeli-Palestinian Water Context (by Jamal L. El-Hindi, Arab Studies Quarterly, 2000)