Acting Administrator of the Federal Transit Administration: Who Is Carolyn Flowers?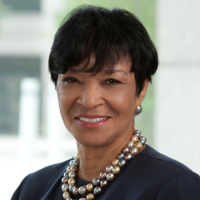 Carolyn Flowers
From April 2016 to January 2017, the Federal Transit Administration (FTA) was run by a long-time transportation professional, Carolyn Flowers. Located in the Transportation Department, FTA funds mass transit systems by distributing billions of dollars in grants to local and state governments and other organizations.
Born circa 1949 and raised in Los Angeles, Flowers earned a B.A. in History and Political Science at UCLA in 1971 and an MBA at UCLA's Anderson School of Management in 1976.
After completing her MBA, Flowers was a financial analyst and budget officer for more than five years, circa 1976 to 1981, at Rockwell International Automotive Operations, and then worked for Wang Laboratories, circa 1981 to 1992, in financial management and as district sales administration manager.
After Wang went bankrupt, Flowers joined the Los Angeles County Metropolitan Transportation Authority (MTA) in January 1993, first as an administrative analyst in the Equal Opportunity/Contract Compliance department, and then as a chief administrative analyst in Bus Operations and Procurement.
During 1998 and 1999, Flowers left MTA to serve as head of the budget department of the City of Beverly Hills.
She returned to MTA to serve as its budget director, and in October 2000 was named
deputy executive officer, Finance, in MTA's Office of Management and Budget. After a brief stint as executive officer for Operations Administration, in November 2006 Flowers was made acting chief operating officer, a title she kept until leaving MTA at the end of 2009.
Flowers left her hometown in January 2010 to become CEO and public transit director at the Charlotte Area Transit System, where she remained for five years.
Flowers joined FTA as a senior advisor in January 2015, and was named acting administrator in April 2016.
After leaving FTA when Donald Trump assumed the presidency, Flowers joined AECOM, a Los Angeles-based engineering firm, as senior vice president and head of its transit practice. That move has generated ethics criticism, as AECOM is set to be a major beneficiary of a large ($647 million) grant for a California rail project that Flowers approved two days before resigning and two weeks before she went to work for AECOM.
-Matt Bewig
To Learn More:
U.S. Transportation Department Executive Approved Grant Days before Taking Job with Rail Contractor (by Ralph Vartabedian, Los Angeles Times)
Partners with the Industry: Profile of Carolyn Flowers (by Laura Lee Huttenbach, RouteMatch)
Carolyn Flowers, Metro's Chief Operating Officer, Resigns to Take Top Transit Job in Charlotte (by Steve Hymon, MTA Source)
New CATS Chief Named (by Eric Spanberg, Charlotte Business Journal)