Acting Administrator of the Drug Enforcement Administration: Who Was Chuck Rosenberg?
Wednesday, October 04, 2017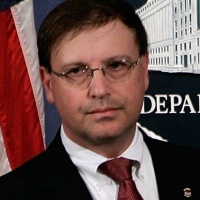 Chuck Rosenberg
Chuck Rosenberg, a career prosecutor who was made acting director of the Drug Enforcement Administration (DEA) under President Barack Obama and continued in that role under Donald Trump, announced his resignation September 26, 2017, apparently because he believes Trump has little respect for the law.
Rosenberg was born in Brooklyn and grew up in Long Island's Nassau County. He attended Tufts University, graduating in 1982 with a B.A., and Harvard, earning a master's in public policy. He initially went to work in Washington for then-Rep. Matt McHugh (D-New York), but left after two years to attend law school. He earned his J.D. from the University of Virginia in 1990.
He joined the Justice Department right out of law school as part of the Attorney General's Honors Program, which has been the starting point for many high Justice officials. Rosenberg began as a prosecutor in the tax division and in 1994 was an assistant U.S. attorney for the Eastern District of Virginia. In 2000, he left federal service to work for the law firm of Hunton and Williams. He also served occasionally as a legal analyst for NBC News.
Rosenberg was called back to the government in 2002 to serve as counsel to Federal Bureau of Investigation (FBI) Director Robert Mueller. His job was initially in doubt because it was found by Bush administration officials that Rosenberg had made a donation to the congressional campaign of Chris Van Hollen, a Maryland Democrat and Harvard classmate of Rosenberg's. Administration officials were convinced that the donation came more from friendship than partisanship and Rosenberg was allowed to take his post. The following year, he was made counselor to Attorney General John Ashcroft and in 2004 he became chief of staff to then-Deputy Attorney General James Comey.
In 2005, Rosenberg was made the interim U.S. Attorney in the Southern District of Texas, where he focused on immigration and drug prosecutions. The next year, he was confirmed as U.S. attorney for the Eastern District of Virginia. He supervised the prosecution of many high-profile cases, including that of 9/11 plotter Zacarias Moussaoui; the dog-fighting case against NFL quarterback Michael Vick; the corruption case against Rep. William Jefferson, the Democratic Louisiana congressman who was found to have kept bribe money in his home freezer; software piracy cases and incidents of fraud among contractors in Afghanistan.
Beginning in 2007, he served as chief of staff to Attorney General Alberto Gonzales. Rosenberg left again for the private sector in 2008, defending white-collar criminals as a partner at Hogan Lovells.
Rosenberg returned in 2013 to work for Comey again, this time as chief of staff and counselor to the FBI director.
On May 13, 2015 Rosenberg was named by then-Attorney General Loretta Lynch as acting chief of the DEA, taking over from Michele Leonhart, who was pushed out because of a sex scandal within the agency.
The following November, Rosenberg created a controversy when he told a reporter: "What really bothers me is the notion that marijuana is also medicinal—because it's not. We can have an intellectually honest debate about whether we should legalize something that is bad and dangerous, but don't call it medicine—that is a joke."
Rosenberg went on to say, "There are pieces of marijuana—extracts or constituents or component parts—that have great promise" medicinally. "But if you talk about smoking the leaf of marijuana—which is what people are talking about when they talk about medicinal marijuana–it has never been shown to be safe or effective as a medicine." This, despite an analysis of marijuana studies published earlier that year in the Journal of the American Medical Association showed "moderate-quality evidence to support the use of cannabinoids for the treatment of chronic pain and spasticity."
The DEA did announce in August 2016 that it would increase the number of federally allowed marijuana cultivators for the purpose of research from the current one provider. That hadn't come to pass by the time of Rosenberg's resignation, however.
The incident many believe responsible for Rosenberg's abrupt resignation came in July, when Trump told a gathering of police officers: "Like when you guys put somebody in the car and you're protecting their head, you know, the way you put their hand over? Like, don't hit their head, and they just killed somebody don't hit their head. I said, you can take the hand away, OK?"
Rosenberg said in a memo to DEA employees that Trump had "condoned police misconduct" and told his people not to follow the president's advice.
"In writing to you, I seek to advance no political, partisan, or personal agenda. Nor do I believe that a Special Agent or Task Force Officer of the DEA would mistreat a defendant. I know that you would not," Rosenberg wrote. "So, why do I write? I write to offer a strong reaffirmation of the operating principles to which we, as law enforcement professionals, adhere. I write because we have an obligation to speak out when something is wrong. That's what law enforcement officers do. That's what you do. We fix stuff. At least, we try."
Rosenberg also took a stand against the focus of the administration, particularly Attorney General Jeff Sessions, on the gang MS-13 as a source of illegal drugs in the United States, which the DEA says is not the primary source of illegal drugs and associated violence in the United States. "Mexican cartels, Mexican transnational organizations are the greatest criminal threat to the United States," DEA spokesman Rusty Payne said. "There's no other group currently positioned to challenge them. Whenever drug investigations that we do involve MS-13, we respond, but right now the No. 1 drug threat in the U.S. is the Mexican cartels."
Rosenberg and his wife, Mary, have two children. He loves baseball and has often served as his son's Little League coach.
-Steve Straehley
To Learn More:
DEA Administrator Plans to Step Down (by Devlin Barrett and Matt Zapotosky, Washington Post)
Justice Department at Odds with DEA on Marijuana Research, MS-13 (by Matt Zapotosky and Devlin Barrett, Washington Post)
DEA Leader Rebukes Trump Telling Officers to Be "Rough" on Suspects (by Evan Perez and Dan Merica, CNN)
The DEA Chief Called Medical Marijuana "a Joke." Now Patients Are Calling for His Resignation. (by Christopher Ingraham, Washington Post)