7 Companies that Paid their CEOs More Than They Paid in Taxes
Thursday, November 20, 2014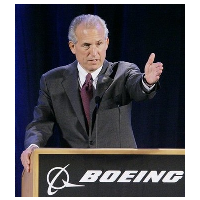 James McNerney, Jr. (photo: M. Spencer Green, AP)
Seven of the largest corporations in America have the dubious distinction of spending more money on their CEO salaries than on taxes to the U.S. government.
The seven are Boeing, Ford, Chevron, Citigroup, Verizon, J.P. Morgan, and General Motors, according to the Institute for Policy Studies and the Center for Effective Government.
While some would argue the salaries of the chief executives were too high, the point of the Institute's report (pdf) is the many tax credits, loopholes and deductions that allow businesses to reduce their tax bill and in some cases, get money back from the federal government.
Only one of the companies paid any taxes at all. Chevron's John Watson was paid $20.2 million while the company paid $15 million in taxes.
Boeing had the highest CEO salary of the seven, with $23.3 million going to top man James McNerney Jr. Meanwhile, the aircraft manufacturer and major government contractor enjoyed an $82 million refund from the Internal Revenue Service (IRS).
In the financial world, Citigroup's Michael Corbat collected $17.6 million, while his company got $260 million back from the IRS. J.P. Morgan Chase paid Jamie Dimon $11.8 million, but got a whopping $1.3 billion back from the IRS.
Verizon's Lowell McAdam earned $15.8 million and the company a $197 million refund.
While CEO of Ford, Alan Mulally was paid $23.2 million and received a $19 million refund.
General Motors' Daniel Akerson made only $9.1 million when he was the company's CEO. The carmaker received $34 million in refunds.
-Noel Brinkerhoff
To Learn More:
Fleecing Uncle Sam (Center for Effective Government)
These Companies Paid Their CEOs More Than They Pay in Taxes (by Sarah Anderson, AlterNet)
Most Americans Clueless about Gap between CEO Pay and Employee Pay (by Steve Straehley, AllGov)
25 Major Companies Paid More to CEOs than They Did in Taxes (by Noel Brinkerhoff and David Wallechinsky, AllGov)