31 U.S. Troops Killed in Worst-Ever Afghanistan Incident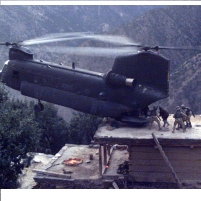 Chinook CH-47 Helicopter Lands on a Roof in Iraq
The SEALs were among 31 who died when their CH-47 Chinook helicopter was shot down by a missile fired by the Taliban during an attack against a Taliban compound in the village of Jaw-e-Mekh Zareen in the Tangi Valley in Wardak. Others killed were three U.S. Air Force air controllers, seven Afghan Army troops, a dog and his handler, and a civilian interpreter, as well as the helicopter crew.
Most of the SEALS were part of Team 6, the same unit that killed Osama bin Laden. However, according to the Pentagon, none of the men killed over the weekend took part in the bin Laden raid. There is no way to confirm this because the U.S. has kept secret the names of the men involved in the bin Laden killing in order to protect them from direct retaliation.
Before Saturday's loss, America's single worst day in the Afghanistan war occurred on June 28, 2005, when another helicopter downing killed 16 Navy SEALs and U.S. Army special operations troops. Those commandoes died while on a mission to rescue four SEALs under attack by the Taliban. Three of the SEALs being rescued were also killed.
-Noel Brinkerhoff