Your Negative Reviews Banned by Sneaky Non-Disparagement Clauses...Except in California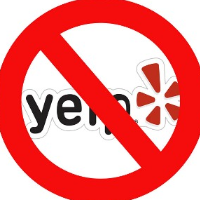 (graphic: Steve Straehley, AllGov)
You know those terms-of-service contracts that you sign or click on even though you haven't read them? Well, some companies have inserted a sneaky clause into those terms that can cost you money if you give that business a negative review.
One online retailer, KlearGear, slapped a couple with a $3,500 suit after they'd complained online about poor customer service. The suit was dismissed when KlearGear failed to appear in court. The Union Street Guest House inn in upstate New York went even further, saying it would fine organizers of an event such as a wedding hosted at the inn if any of their guests posted negative reviews online. The policy apparently isn't working out that well as the inn's Yelp page is packed with negative posts.
However, free speech reigns in the state of California. Governor Jerry Brown signed a bill in September that prohibits businesses from inserting anti-review clauses into their terms of service. "No consumer should ever face penalties for voicing their opinions on the services or products they have purchased, and California law is now clear that no company has the ability to silence consumers," the bill's sponsor, Democratic Assemblyman John A. Pérez, said in a statement.
If you're not fortunate enough to live in California, be sure to thoroughly check a business' terms-of-service policy before signing a contract or buying from that company. If a business is that afraid of negative reviews, it might be for good reason.
-Steve Straehley
To Learn More:
Corporations Are Trying to Take Away Your Right to Complain About Their Products (by Sage McHugh, AlterNet)
5 Outrageous Ways People Try to Game Online Reviews (by Brad Tuttle, Money)
New Law Bans Companies From Punishing Online Critics (by Jacob Davidson, Money)
Gov. Jerry Brown Signs Bill Protecting Consumers' Online Reviews (by Melanie Mason, Los Angeles Times)
Non-Disparagement Law (State of California)
Online Merchant Charges Customer $3,500 for Writing Bad Review (by Noel Brinkerhoff, AllGov)