Young Adolescents as Likely to Die from Suicide as from Traffic Accidents
Sunday, November 06, 2016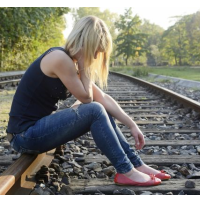 (photo: Getty Images/iStockphoto)
By Sabrina Tavernise, New York Times
WASHINGTON — It is now just as likely for middle school students to die from suicide as from traffic accidents.
That grim fact was published on Thursday by the Centers for Disease Control and Prevention. They found that in 2014, the most recent year for which data is available, the suicide rate for children ages 10 to 14 had caught up to their death rate for traffic accidents.
The number is an extreme data point in an accumulating body of evidence that young adolescents are suffering from a range of health problems associated with the country's rapidly changing culture. The pervasiveness of social networking means that entire schools can witness someone's shame, instead of a gaggle of girls on a school bus. And with continual access to such networks, those pressures do not end when a child comes home in the afternoon.
"It's clear to me that the question of suicidal thoughts and behavior in this age group has certainly come up far more frequently in the last decade than it had in the previous decade," said Dr. Marsha Levy-Warren, a clinical psychologist in New York who works with adolescents. "Cultural norms have changed tremendously from 20 years ago."
Death is a rare event for adolescents. But the unprecedented rise in suicide among children at such young ages, however small the number, was troubling and federal researchers decided to track it. In all, 425 children ages 10 to 14 killed themselves in 2014. In contrast, 384 children of that age died in car accidents.
"This graph is really surprising," said Sally Curtin, an expert at the National Center for Health Statistics who analyzed the data. "We think of traffic accidents as so commonplace."
The crossing-over point was reached in part because suicide had spiked, but also because fatal traffic accidents had declined.
Suicide is just the tip of a broader iceberg of emotional trouble, experts warn. One recent study of millions of injuries in American emergency departments found that rates of self-harm, including cutting, had more than tripled among 10- to 14-year-olds. "This is particularly concerning as this type of injury often heralds suicidal behavior," the researchers wrote.
To Learn More:
QuickStats: Death Rates for Motor Vehicle Traffic Injury, Suicide, and Homicide Among Children and Adolescents aged 10–14 Years — United States, 1999–2014 (Centers for Disease Control and Prevention)
Rural Towns Lead Increase in U.S. Suicide Rate (by Noel Brinkerhoff and Steve Straehley, AllGov)
More Americans Now Die from Suicide than from Auto Accidents (by Noel Brinkerhoff, AllGov)