Rural Towns Lead Increase in U.S. Suicide Rate
Saturday, November 07, 2015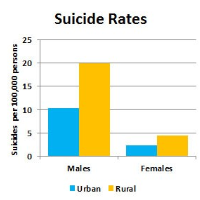 (graphic: Steve Straehley, AllGov)
Suicide rates are up in the United States, particularly in rural areas where the increases have been dramatic.
While suicides were up in big cities by 7% from 2004 to 2013, rural counties experienced a 20% increase, according to the Centers for Disease Control and Prevention (CDC).
The CDC reported in 2014 that Wyoming had the highest suicide rate in the nation, almost 30 deaths per 100,000 people in 2012. The national average was 12.6 per 100,000.
Other rural states, such as Alaska, Montana, New Mexico and Utah, weren't far behind Wyoming according to The New York Times.
"The problem reaches across demographic boundaries, encompassing such groups as older men, Native Americans and veterans. The sons and daughters of small towns are more likely to serve in the military, and nearly half of Iraq and Afghanistan veterans live in rural communities," the Times reported.
Isolation, lower incomes, health issues and family problems all contribute to the increased suicide rate in rural areas, Emily Selby-Nelson, a psychologist at Cabin Creek Health Systems, which provides health care in the rural hills of West Virginia, told the Times. "Rather than say, 'I need help,' they keep working and they get overwhelmed. They can start to think they are a burden on their family and lose hope," she said.
Those in rural areas also have easier access to the most popular suicide method—firearms. Fifty-one percent of those in rural households own a gun, compared to 25% of urban homes, according to the Pew Research Center.
A study published in the May issue of the journal JAMA Pediatrics reported rural adolescents commit suicide at roughly twice the rate of their urban counterparts.
-Noel Brinkerhoff, Steve Straehley
To Learn More:
Small Towns Face Rising Suicide Rates (by Laura Beil, New York Times)
Suicides in U.S. Are Up, Especially in Rural Areas (by Alex B. Berezow, RealClearScience)
Age-Adjusted Rates for Suicide, by Urbanization of County of Residence — United States, 2004 and 2013 (Centers for Disease Control and Prevention) (abstract)
Widening Rural-Urban Disparities in Youth Suicides, United States, 1996-2010 (by Cynthia A. Fontanella, PhD; Danielle L. Hiance-Steelesmith, MSW; Gary S. Phillips, MAS; Jeffrey A. Bridge, PhD, Natalie Lester, MD, MPH; Helen Anne Sweeney and John V. Campo, MD, Journal of American Medical Association) (abstract)
Dramatic Rise in Suicide Rate for Americans 40-64, but not for other Age Groups (by Steve Straehley, AllGov)
86 Firearm Deaths a Day in U.S.; 60% are Suicides (by Noel Brinkerhoff, AllGov)
More Americans Now Die from Suicide than from Auto Accidents (by Noel Brinkerhoff, AllGov)