Why Does the Defense Dept. War Manual Refer to Journalists as "Unprivileged Belligerents"?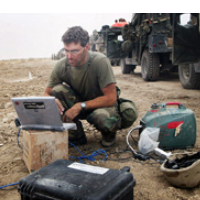 Photo journalist Joe Raedle at work in Iraq (photo: Jose Henao, Getty Images)
The Department of Defense for the first time has issued a manual on war, and for reasons unknown officials included a section defining journalists as a threat to military operations.
Buried within the 1,180-page document is language that says reporters sometimes can be considered "unprivileged belligerents," a legal term that applies to fighters in a war zone. According to the manual, a correspondent who engages in "relaying of information" can be considered as "engaging in hostilities" and may be punished appropriately.
American journalists have been reporting from war zones for years with none found to have given away information to an enemy. Despite this, military officials have worked hard in recent years to cut down on reporters' access.
The Guardian says the term derives from "unlawful combatants," which was used by the George W. Bush administration to describe some prisoners taken on the battlefield. "In general, journalists are civilians," the Law of War Manual reads, but "like other civilians, civilian journalists who engage in hostilities against a State, may be punished by that State after a fair trial," according to The Guardian.
The manual also says "reporting on military operations can be very similar to collecting intelligence or even spying," and that "a journalist who acts as a spy may be subject to security measures and punished if captured."
The manual's language has provoked outrage from media outlets and groups. "It's speculative, it's ambiguous, it's arbitrary," Mickey Osterreicher, general counsel for the National Press Photographers Association, told The Guardian. "I don't think it's helpful at all."
The New York Times editorial board said the guidelines in the manual could make the jobs of journalists in war zones "more dangerous, cumbersome and subject to censorship. Those should be repealed immediately."
"A spokesman for the National Security Council declined to say whether White House officials contributed to or signed off on the manual," according to a Times editorial. "Astonishingly, the official pointed to a line in the preface, which says it does not necessarily reflect the views of the 'U.S. government as a whole.'"
"That inane disclaimer won't stop commanders from pointing to the manual when they might find it convenient to silence the press. The White House should call on Secretary of Defense Ashton Carter to revise this section, which so clearly runs contrary to American law and principles," the editorial concluded.
-Noel Brinkerhoff
To Learn More:
Pentagon Needs To Rethink Calling War Journalists 'Belligerents', Says Watchdog (by Alan Yuhas, The Guardian)
The Pentagon's Dangerous Views on the Wartime Press (New York Times Editorial Board)
U.S. Department of Defense Must Revise the Law of War Manual (Reporters without Borders)