Why do Police Ignore Federal Guidelines and Shoot at Moving Vehicles, Killing Occupants?
Monday, September 07, 2015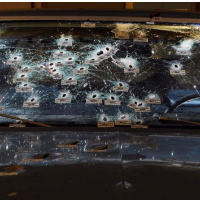 Bullet-riddled car from 2012 Cleveland police shooting (photo: Ohio Attorney General/AP)
Federal guidelines recommend police avoid shooting into moving vehicles because innocent people can be killed and it's ineffective at stopping cars. Police continue to use this deadly tactic, however.
An investigation by The Guardian found at least 30 incidents in 2015 of police firing their weapons into moving cars or trucks, killing at least one person each time.
Black men made up more than 25% of those, although they comprise only 6% of the driving-age population, Jon Swaine, Jamiles Lartey and Oliver Laughland wrote.
The British newspaper reported police involved in those shootings justified the use of deadly force by claiming the vehicles they shot at posed a threat to them or their colleagues. But The Guardian found almost all of the incidents were examples of police ignoring federal guidelines that say officers should open fire only if a driver presents a separate deadly threat, such as a gun. In the cases examined by the newspaper, none of those killed were pointing guns at police, and in only three cases were police aware there was a weapon in the vehicle.
"If an officer puts himself in a position where they have no alternative but to use deadly force, they will use deadly force," Chuck Wexler, the executive director of the Police Executive Research Forum, told The Guardian. "What you really want them to do is think 'I should not stand in front of this car. I should not put myself in a position where I have no alternative.'"
The U.S. Department of Justice does not recommend shooting into moving cars because experts say it is widely viewed as ineffective for stopping oncoming vehicles, and doing so poses risks to innocent parties. Police departments in Denver, New York City, Cleveland, Cincinnati, Miami Beach, Los Angeles and Albuquerque, among other cities, heed this recommendation.
Others haven't adopted it. Police in Indianapolis, for example, have twice in recent months shot and killed drivers in their cars. That department's policy states that police may fire into vehicles if it's "reasonably perceived that the vehicle is being used as a weapon against the officer or others."
-Noel Brinkerhoff, Steve Straehley
To Learn More:
Moving Targets (by Jon Swaine, Jamiles Lartey and Oliver Laughland, The Guardian)
Should Police Shoot at Moving Cars? (by Michael Anthony Adams, Indianapolis Star)
Denver Police Change Policy on Shooting at Cars (by Noelle Phillips, Denver Post)
Police Shoot to Death One Unarmed Person Every 3 Days in U.S. (by Noel Brinkerhoff, AllGov)
Police Officer Goes on Trial for Firing 49 Shots at Two Unarmed Drug Users (by Danny Biederman and Noel Brinkerhoff, AllGov)