Why Did Coast Guard Office in Alaska Allow Health Care Travel Program to be used for Undocumented Trips to Vail and Orlando?
Saturday, February 28, 2015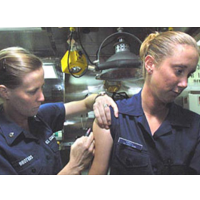 U.S. Coast Guard healthcare in Alaska (photo: Leila Gorchev, Pool/Getty Images)
The U.S. Coast Guard has been criticized in a government report for allowing personnel and their families to travel thousands of miles for healthcare on the government's dime without clear indication the trips were medically necessary or could be done closer to home.
An audit (pdf) by the inspector general for the Department of Homeland Security, which oversees the Coast Guard, found 94% of the records it reviewed for the Travel to Obtain Health Care program lacked documentation, such as doctors' referrals and cost estimates, to justify trips. The program allows active-duty members, reservists and their dependents to travel at the agency's expense for non-emergency specialty medical care if it is not available within 100 miles of the patient's health care provider, according to Government Executive. Nearly $4.5 million was spent between 2010 and 2014 on such expenses.
The IG's office received information that the Coast Guard was authorizing unnecessary healthcare travel. The Coast Guard in Alaska, for example, sent personnel or their relatives to such destinations as Vail, Colorado; Orlando, Florida; Savannah, Georgia; and Scottsdale, Arizona.
The IG's office said the "documentation in the files did not support or demonstrate that care was not available locally or in a closer location such as Anchorage or Seattle, Wash., which could be more cost effective."
-Noel Brinkerhoff
To Learn More:
The U.S. Coast Guard Travel to Obtain Health Care Program Needs Improved Policies and Better Oversight (Department of Homeland Security Inspector General) (pdf)
Watchdog Dings Coast Guard for Lax Travel Spending Oversight (by Kellie Lunney, Government Executive)