Water Shortages Not Just in California—Puerto Rico and Navajoland Also Hit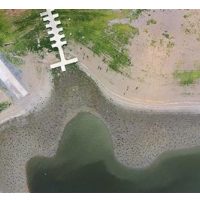 La Plata reservoir in Toa Alta, Puerto Rico (photo: Ricardo Arduengo, AP)
"Other than my God, there's nothing more important than water. Gold? You can't drink gold."
Americans in such disparate places as Navaho reservations and tropical Puerto Rico are finding out what Central Californians like Rick Overby already know—you can't take water for granted.
Overby was one of many Californians interviewed by Sasha Abramsky of The Nation who either are, or have had to, do without running water in their homes. Some poor residents of California's Central Valley drive—or walk—miles to bring bottled water to their homes.
Although California's drought has gotten more publicity, it isn't the only area suffering through a drought. Puerto Ricans are enduring one of the worst droughts in their island's history, forcing the government to ration water for the first time since the 1990s. For about 160,000 residents and businesses there, water is shut off for two days, then turned on for a day, then off again. About 185,000 others have water every other day and 10,000 more are on 12-hour rationing, according to The New York Times.
"This is the strictest rationing we've ever had," Alberto M. Lázaro, executive president of the Puerto Rico Aqueduct and Sewer Authority, told the Times. "It's been raining, though the showers that should drop water in the east coast [of the island] are dropping the water in the west coast." Some of Puerto Rico's reservoirs have only a month's supply of water.
Things are similarly bad for many Navajos in New Mexico, Arizona and Utah, where a multiyear drought has dried up many streams, lakes and underground wells. On the reservation, some residents get their water via deliveries by a water truck every three weeks.
Horses and cows have been found dead near empty watering holes, while some residents "have had to drink, bathe and cook with water they have hauled from livestock tanks, or use water pumped from aquifers poisoned by radioactive waste," the Times reported.
Navajos are getting by on seven gallons of water a day while the average Californian in 2011 used 362 gallons a day. That was before Gov. Jerry Brown (D) instituted mandatory 25% cuts in municipal water usage, however.
-Noel Brinkerhoff, Steve Straehley
To Learn More:
In Drought, Puerto Rico Rations Water, Setting Off a Collection Frenzy (by Lizette Alvarez, New York Times)
On Parched Navajo Reservation, 'Water Lady' Brings Liquid Gold (by Fernando Santos, New York Times)
Welcome to Fairmead, California, Where You Have to Walk a Mile for a Sip of Water (by Sasha Abramsky, The Nation)
Could Puerto Rico Go the Way of Greece? (by Noel Brinkerhoff and Steve Straehley, AllGov)
Navajo Nation Taxes Junk Food (by Danny Biederman and Noel Brinkerhoff, AllGov)
California Water Shortage Culprits—Fracking and Agriculture—Escape State Conservation Measures (by Noel Brinkerhoff, AllGov)