Watchdog Says Florida Fails to Warn Residents about Unsafe Drinking Water
Saturday, August 20, 2016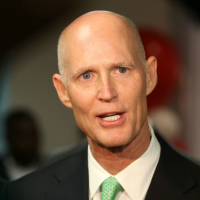 Gov. Rick Scott (photo: Getty Images)
By Les Neuhaus, Courthouse News Service
TAMPA (CN) — Little-to-no assessments, almost no enforcement of violations and historically-low penalties of violators are leaving the health of Florida residents exposed, according to Jerry Phillips, director of a watchdog group that analyzed the state's environmental protection agency's own data on public drinking water for 2015.
The Florida chapter of the Public Employees for Environmental Responsibility (PEER) issued two damning reports drawn from information from the state's Department of Environmental Protection — one on Aug. 11 and one on Thursday — on Florida's 5,310 public drinking water systems.
Of those, 689 — or more than one in eight — were in violation, with contaminants like fecal coliform, various chemicals and disinfectants exceeding levels safe for human consumption, according to one report.
What's worse, three of Florida's six districts the DEP is mandated to monitor on quarterly or monthly timelines haven't been assessed in three years at all. Only one district met the equal number of assessments it performed in 2014. It's the worst year on record for DEP in 28 years, according to Phillips.
"It's a huge decline — it's like the floor fell out from the program," Phillips, who now heads the Florida PEER chapter but once worked as an attorney for DEP in the 1990s, said by telephone from Tallahassee on Thursday. "And it's not just this program — it's all of them. We're in historically low levels of enforcement across the board."
Phillips said PEER stays out of the political blame game, but referenced the fact the decline began in 2010, when Gov. Rick Scott was first elected into office. Records from DEP in the PEER report reflect the dramatic change.
In 2010, there were 141 assessments. In 2015 there were two. In 2010, just shy of $250,000 in penalties was collected from violators — money that both helps fund eco-restoration programs throughout the state and helps pay employees working for the DEP — and in 2015 just $12,000 in penalties was assessed, a 957 percent decline.
And the collapse in state oversight comes at a critical time: On Aug. 29, the U.S. Environmental Protection Agency (EPA) is set to cede more authority to the DEP on supervisory powers over the state's public drinking water, a move Phillips said is a disaster in the making.
He said the EPA has had the authority for years to force the state's hand on violators, but hasn't done so.
"More or less the EPA has become a toothless tiger — just look at how the EPA handled Flint, Michigan," Phillips said, referencing Flint's recent woes after officials knew about the problem but did nothing, resulting in a public relations tragedy. "That doesn't happen just because everyone's playing nice — that happens because the regulators are looking the other way."
The EPA did not respond to multiple requests by email and telephone from Courthouse News for comment on PEER's assertions.
The DEP also did not respond to multiple requests for comment from Courthouse News, but told Florida Today on Wednesday, "The number one priority for the department is to make sure our drinking water systems are being properly monitored and that any concerns are identified and corrected as quickly as possible."
Florida Today attributed the comment to DEP spokeswoman Dee Ann Miller, who went on to say in an email to the publication that, "Where there is an exceedance of a drinking water standard, facilities are required to increase their monitoring frequency. The Department closely monitors the subsequent results to ensure the system returns to compliance, and also makes these results available to the public."
But Phillips said Florida's had an abysmal record when it comes to protecting water in the state, with this summer's widely-reported algae bloom taking center stage.
Pollutants from the Kissimmee River watershed, which flow into Lake Okeechobee, coalesced into a toxic algae bloom in the nation's second-largest body of water, and once it was discharged after lake levels rose, that bloom manifested into something much larger and deadlier downstream in the St. Lucie and Indian River Lagoon estuaries.
While that issue is separate of clean drinking water, many Florida residents see the two issues — polluted water ways and clean drinking water — as intertwined. And now the state is set to take on more authority at a time when it has come under heavy criticism, not just by environmental groups like PEER, but federal agencies like NOAA, along with state and federal politicians.
But the issue could be much deeper, according to Phillips.
"Basically, the (assessment) programs have bottomed out," he said. "I think there's a mindset within that agency (DEP) to take enforcement off the table entirely, but the reason they don't is to hold on to the federal money they are receiving."
Since the EPA and DEP did not respond to this article, Courthouse News was unable to determine just how much the agency receives in federal funding for issues like clean drinking water oversight.
To Learn More:
Don't Drink the Water: Collapse of Florida's Safe Drinking Water Enforcement Program (Public Employees for Environmental Responsibility, Florida Chapter) (pdf)
Florida Fracking Battle, Triggered by Oil Firm Revelation, Intensifies Across State (by Lizette Alvarez, New York Times)
It's Not Just Flint: Water Supplies in many U.S. Cities are Contaminated by Lead (by Michael Wines and John Schwartz, New York Times)