Washington Firefighters Want Halt to Oil Trains Running Through State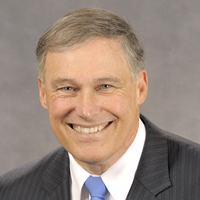 Washington Gov. Jay Inslee (D)
By June Williams, Courthouse News Service
SEATTLE — Washington firefighters asked Gov. Jay Inslee (D) to stop oil trains from running through the state until a "full investigation" is conducted into the June 3 derailment in Oregon.
A Union Pacific train transporting Bakken crude derailed in Mosier, Ore., leaking oil into the Columbia River and causing a fire that required evacuation of town residents.
After the accident, the president of the Washington State Council of Fire Fighters, a union representing 8,000 members, wrote an open letter to Inslee citing the difficulty of extinguishing Bakken crude oil fires and asking the governor to use his executive authority to halt rail transport of oil.
"The account given by firefighters of the Mosier response and by others who have responded to similar incidents across North America make it clear these fires are exceedingly difficult to extinguish, even under unusually ideal circumstances. What happened in Mosier could have just as easily happened in a population center like Spokane or Seattle, resulting in even greater tragedy," council president Dennis Lawson wrote.
Lawson said there is "no safe way to transport Bakken crude" and the upcoming fire season is likely to stretch already thin resources.
He urged Inslee to ask the U.S. Department of Transportation to prohibit transport of oil through the state until there has been a full investigation into the cause of the Oregon derailment.
Lawson's letter also asked Inslee to reject plans for any new oil terminals in Washington.
The governor's office told the Seattle Times Inslee does not have the authority to halt oil transportation through the state.
To Learn More:
Trains Full of Toxic Oil Run Next to Nuclear Missile Silos (by Steve Straehley, AllGov)
Feds Saunter Toward Oil-Rail Regulations While Trains Barrel into California (by Ken Broder, AllGov California)
5 States Refuse to Reveal Details of Oil-Train Routes and Volumes; Montana Disagrees (by Noel Brinkerhoff and Steve Straehley, AllGov)