VA and U.S. Customs Officials Accused of Gaming System to Land Key Jobs
Wednesday, October 21, 2015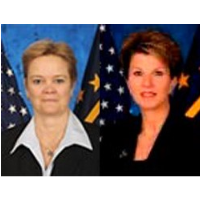 Diana Rubens and Kimberly Graves
Officials in two federal departments—the Department of Veterans Affairs (VA) and U.S. Customs and Border Protection (CBP)—have been accused of exploiting the federal employment system for the benefit of upper-level employees.
At the VA, executives Diana Rubens and Kimberly Graves have been accused of abusing their positions to receive plum jobs and perks.
Rubens and Graves "inappropriately used their positions of authority for personal and financial benefit when they participated personally and substantially in creating opportunities for their own transfers to positions they were interested in filling," the VA's inspector general's office said.
The two senior executives "gamed VA's moving-expense system for a total of $400,000" using "questionable reimbursements," according to The Washington Post. Taxpayers paid $300,000 for Rubens to relocate 140 miles, from D.C. to Philadelphia.
The scheming has caught the attention of Congress, which planned to investigate the VA and learn how it allowed Rubens and Graves to pull off what the Senate Committee on Veterans Affairs called a "shockingly unethical misuse of funds."
The VA spent a total of $1.8 million to relocate 23 department executives from fiscal 2013 to 2015. All but two of those new jobs came with pay raises despite a White House freeze on executive pay, the Post's Lisa Rein reported.
Manipulating a federal job employment system has also occurred at the U.S. Customs and Border Protection, where staff created jobs for a group of "politically connected, unqualified candidates," the Post reported.
The Office of Special Counsel (OSC) discovered "a high-priority scheme" to create civil service jobs for three political appointees who had worked on President Barack Obama's 2008 campaign and then at the Department of Homeland Security, which oversees CBP.
OSC even charged Katherine Coffman, then assistant commissioner at Customs and Border Protection's human resources department, with eight violations of federal regulations that are supposed to ensure fair competition for federal jobs. Coffman was exonerated, with Administrative Law Judge Bruce T. Smith saying he was "left with the unmistakable impression that [Coffman] was charged solely because she was the last woman standing," according to the Post.
Employees were following the request of CBP chief Alan Bersin, who when he came on board as commissioner in 2010 asked that three political appointees who had worked on President Obama's 2008 election campaign be hired. All the slots for political appointees were filled, so CBP employees put together a plan to hire the three as GS-13 civil service employees without opening the jobs to competition as is required.
-Steve Straehley, Noel Brinkerhoff
To Learn More:
Fox News Face Concocted CIA Past, Feds Say (by Britain Eakin, Courthouse News Service)
Customs and Border Protection Officials Manipulated Hiring Rules to Favor Politically Connected Candidates, Judge Finds, But Clears Top Official of Wrongdoing (by Lisa Rein, Washington Post)
Lawmakers Demand Answers from VA on 'Shockingly Unethical Misuse of Funds' by Two Executives (by Lisa Rein, Washington Post)