Utah Senate Votes to Abolish Death Penalty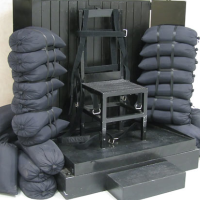 Utah execution chair--Utah Dept. of Corrections
By Michelle L. Price, Associated Press
SALT LAKE CITY — Utah senators on Wednesday voted to abolish the death penalty, advancing what had been considered a longshot proposal in the conservative state.
The measure marks a stunning turn in Utah, where a year ago lawmakers voted to reinstate the use of the firing squad as a backup execution method. Lawmakers argued that if the state has a shortage of lethal injection drugs, it must still find a way to kill death row inmates.
Sen. Steve Urquhart, a Republican, is leading the push this year to repeal capital punishment, citing conservative themes of imperfect governments and capital punishment as a costly and inefficient policy.
"We're going to pass it," Urquhart told reporters Wednesday.
When his bill was unveiled three weeks ago, Urquhart acknowledged it would be an uphill battle to pass the proposal through in a state with strong support for the death penalty. But he said libertarian leanings of the legislature gave him hope.
His proposal cleared the GOP-controlled Senate by three votes Wednesday, advancing it to the Republican-dominated House of Representatives.
Urquhart said he does not yet know how many supporters he has in the House, but he has backing from the chamber's Republican Speaker Greg Hughes.
Hughes told The Associated Press on Tuesday that he's been a quiet but longtime opponent of the death penalty, but he plans to be vocal in his support of abolishing the practice when the bill reaches his House colleagues.
The measure must get a hearing before a House committee and vote before the full chamber sometime before lawmakers adjourn at midnight on March 10. The earliest a committee hearing could occur would be Thursday, but not vote had been scheduled by early afternoon Wednesday.
Urquhart said some House Representatives have already told him they support the bill, which surprised him. He declined to identify the lawmakers but said he would have "bet and lost a lot of money that they would never support this legislation."
If the measure wins approval in the House, it could still hit a wall with Utah's Republican governor.
Gov. Gary Herbert reiterated to reporters on Tuesday that he's a strong supporter of capital punishment.
Utah's Senate spent about 20 minutes debating the measure Wednesday, a day after they cast a preliminary vote of approval without a single lawmaker asking a question or contesting the proposal.
Republican Sen. Todd Weiler spoke against Urquhart's proposal Wednesday, arguing that for some crimes, execution is a just punishment.
Weiler cited the case of Oklahoma City bomber Timothy McVeigh.
"He murdered hundreds of people and he was executed for that," he said. "How many people think that was unjust?"
Weiler also disputed a legislative study from 2012 that found capital punishment costs more taxpayer money than sentence of life in prison without parole.
He and others speaking against the proposal said that while capital punishment is rarely sought in Utah, it should remain on the table to give prosecutors a position to negotiate in plea bargains down to a life sentence without parole.
Other conservative Republicans speaking in favor of abolishing the practice said they have no problem in theory with the idea of killing someone, but they fear that years of appeals render it ineffective and worry the government could kill someone wrongly convicted.
Proposals to repeal capital punishment have been introduced in at least nine other states over the past year, though it's unclear how many are anywhere close to joining 19 states and the District of Columbia in abolishing the practice.
Associated Press writer Hallie Golden contributed to this report.
To Learn More:
Nebraska becomes First Conservative State in 42 Years to Abolish Death Penalty (by Noel Brinkerhoff, AllGov)
Death Penalty Capital of U.S.: Harris County, Texas (by Noel Brinkerhoff and Steve Straehley, AllGov)
Elected Judges more likely to Impose Death Penalty than Appointed Judges (by Danny Biederman and Noel Brinkerhoff, AllGov)