Death Penalty Capital of U.S.: Harris County, Texas
Friday, September 26, 2014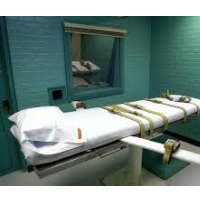 Texas death chamber (photo: Pat Sullivan, AP)
When it comes to executions of convicted murderers, no jurisdiction in the United States can top Harris County in Texas.
Home to the city of Houston, Harris County has carried out more death penalty cases than any other county in the country. Since 1976, the year capital punishment was reinstated in the United States, 122 people convicted in Harris County have been executed. That's more than double the total of the county responsible for the second highest number of executions, Dallas County, with 53.
Part of the reason Harris County has been responsible for so many executions was that its former District Attorney, Johnny Holmes, prosecuted many cases as capital murder. In the 21 years he was in office up to 2000, his office got more than 200 death sentences.
"His philosophy was to seek the death penalty often, and he ran on that platform," Richard Dieter, executive director of the Death Penalty Information Center, told the National Journal. "Since Johnny left, the number of death sentences [in Harris County] has dropped dramatically."
The remaining top jurisdictions for executions, according to the Death Penalty Information Center, are:
· Oklahoma County (Oklahoma City), Oklahoma: 40
· Tarrant County (Fort Worth), Texas: 38
· Bexar County (San Antonio), Texas: 37
· Tulsa County, Oklahoma: 17
· Montgomery County (suburban Houston), Texas: 16
· Jefferson County (Beaumont/Port Arthur), Texas: 16
· St. Louis County, Missouri: 15
· (tie) St. Louis City, Missouri: 13
· Pima County (Tucson), Arizona: 13
Those jurisdictions were responsible for more than a quarter of all U.S. executions since 1976, Dustin Volz wrote at National Journal.
-Noel Brinkerhoff, Steve Straehley
To Learn More:
Why Are So Many People Getting Sentenced to Death in Houston? (by Dustin Volz, National Journal)
Top 15 Counties by Execution Since 1976 (Death Penalty Information Center)
Americans' Support for Death Penalty at 40-Year Low (by Noel Brinkerhoff, AllGov)
Majority of Executions Come from Just 2% of Counties (by Noel Brinkerhoff, AllGov)