U.S. Public Wants Out of Afghanistan; NY Times and Washington Post Want In
Wednesday, December 02, 2009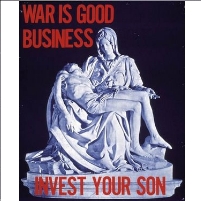 (graphic: Lambert Studios, Inc.)
Two of the nation's most respected newspapers have expressed through their editorial pages a diametrical position from that of the general public on the Afghanistan war, according to an analysis by Fairness and Accuracy in Reporting (FAIR). A majority of Americans in recent polls by Fox News, CNN, the Associated Press and others have said they oppose the war or declared it not worth fighting. But the opinion sections of The New York Times and The Washington Post have consistently run more editorials in favor of the war than against it.
FAIR found 36 of the 43 Op-Ed columns published by the Times this year supported the war, while only seven opposed it. Fourteen of the pro-war columns favored some form of escalation by the U.S.
As for The Washington Post, the disparity between pro-war and antiwar columns was even greater: 10 to 1. Sixty-one out of 67 Op-Eds supported the war, while only six were in opposition. Of the pro-war columns, 31 favored escalating U.S. involvement.
-Noel Brinkerhoff