U.S. Postal Service Imposes Nationwide Ban of Marijuana Ad Mailings
Tuesday, December 22, 2015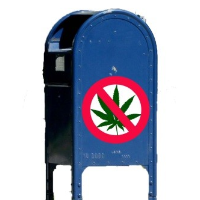 (photo illustration: Steve Straehley, AllGov)
The U.S. Postal Service (USPS) has formally adopted a policy that prohibits any newspaper or publication that mails its copies for delivery from including advertisements for marijuana.
The issue surfaced in November when the Chinook Observer in Long Beach, Washington, was informed by the USPS Portland District that it was illegal to mail newspapers with medical or recreational marijuana ads.
The notification prompted Democratic Senator Ron Wyden of Oregon, which has legalized recreational pot use, to question the Postal Service policy and its authority to do so. USPS General Counsel Thomas J. Marshall informed Wyden in a letter that the policy "will apply to all districts" in the country, and that the agency was authorized to ban such ads because marijuana is a Schedule I drug under federal law. Under the policy, the Postal Service will not confiscate such mail, but it may report the violation "to the responsible law enforcement agencies."
The Chinook Observer has stopped running pot ads in its issues it mails. "The ban could have a chilling effect on newspapers that deliver by mail," Aaron Mesh wrote in Willamette Week.
Wyden said in an official statement that included three other Democratic Oregon politicians, Senator Jeff Merkley and Representatives Earl Blumenauer and Suzanne Bonamici: "We are working as a delegation to quickly find the best option to address this agency's intransigence. We want federal authorities to respect decisions made by law-abiding Oregonians and small business owners in the state."
They added: "Unfortunately, the outdated federal approach to marijuana as described in the response from the Postal Service undermines and threatens news publications that choose to accept advertising from legal marijuana businesses in Oregon and other states where voters also have freely decided to legalize marijuana."
-Noel Brinkerhoff
To Learn More:
U.S. Postal Service Expands Its Marijuana-Advertising Ban to All 50 States (by Aaron Mesh, Willamette Week)
U.S. Postal Service Says Mailing Marijuana Ads is Illegal (by Gosia Wozniacka, Associated Press)
U.S. Postal Service Issues Advisory Saying It's Illegal to Mail Material with Marijuana Advertising (by Noelle Crombie, Oregon Live)
CBS Bans Marijuana Legalization Ad in Times Square (by Noel Brinkerhoff, AllGov)