U.S. Government Wants to Move Bio-Defense Lab from New York to Kansas
Saturday, November 17, 2012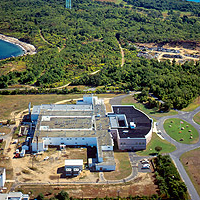 Plum Island Animal Disease Center (photo: Wikipedia)
For four years the federal government has made little progress in moving a dangerous biological defense laboratory from New York State to the heart of the Midwest.
Officials decided in 2008 to replace the Plum Island Animal Disease Center, located off the coast of Long Island, with the National Bio and Agro defense facility (NBAF) in Manhattan, Kansas.
But the plan has run into obstacles.
One of the primary reasons for moving the NBAF was that the new location would facilitate research into diseases that threaten cattle, like foot and mouth virus. But local ranchers have expressed worries about having harmful strains housed so close to millions of cows.
Rising costs also raised doubts about building the new facility. The Department of Homeland Security recommended giving up on Plum Island, due to its vulnerability to terrorist attack.
But a report from the National Research Council of the National Academies in 2010 concluded that the new lab would have a 70% chance of accidentally releasing a pathogen during its projected 50-year life. However, a subsequent report reduced the risk percentage to less than 1%. Opponents still point to the fact that Manhattan is prone to tornadoes, just like the rest of Kansas, which was struck by 187 twisters in just one year (2008).
-Noel Brinkerhoff
To Learn More:
US High Security Bio Lab Faces Uncertain Future (by Matt McGrath, BBC News)
Top Level Biosecurity Lab to Move to Kansas If Approved (by Dan Flynn, Food Safety News)
Evaluation of the Updated Site-Specific Risk Assessment for the National Bio- and Agro-Defense Facility in Manhattan, Kansas (National Research Council of the National Academies)