U.S. Congress Passes Bill to Bar Companies from Suing Customers Who Post Online Reviews
Monday, December 05, 2016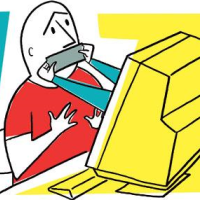 (graphic: Phil Marden, Getty Images)
By Associated Press
WASHINGTON (AP) — Congress last week cleared legislation to ensure that customers who want to post negative reviews on websites like Yelp or TripAdvisor can do so without legal repercussions.
The Senate passed the measure by voice vote. The bill now goes to President Barack Obama.
Supporters of the bipartisan bill say it is needed to ensure freedom of speech in a growing online economy. It was written in response to businesses that have made customers sign non-disparagement clauses and then sued if a bad review showed up.
"The internet is supposed to be an open forum for the free exchange of ideas of all kind," said Rep. Darrell Issa, R-Calif. "But how free is that exchange, really, if it's been cherry-picked and censored to weed out things some people find unfavorable? The bill we've now sent to the president's desk will ensure that the internet remains a place where the freedom of speech can thrive and protect honest consumers from retaliatory litigation."
In one case, a Dallas couple was sued by a pet-sitting company for up to $1 million after giving the company a one-star review on Yelp and complaining that their fish had been overfed. The case was dismissed this past summer.
The House passed the bill, backed by Rep. Joe Kennedy, D-Mass., and Republican Rep. Leonard Lance of New Jersey, in September. Kennedy, who represents Needham, Mass.-based TripAdvisor, had said fair reviews are important to strengthen the so-called "sharing economy," which allows consumers to exchange products, services and ideas.
To Learn More:
Doctors Respond To Patients' Negative Yelp Reviews by Posting Rebuttals that Violate Patient Privacy (by Charles Ornstein, ProPublica)
Your Negative Reviews Banned by Sneaky Non-Disparagement Clauses...Except in California (by Steve Straehley, AllGov)
State Law Protects Reviewers' Right to be Critical on Yelp (by Ken Broder, AllGov California)
Court Rules against Negative Anonymous Yelp Reviews…but only in Virginia (by Noel Brinkerhoff, AllGov)
Online Merchant Charges Customer $3,500 for Writing Bad Review (by Noel Brinkerhoff, AllGov)