Uprising at Private Prison Leads to Transfer of Thousands of Prisoners
Wednesday, February 25, 2015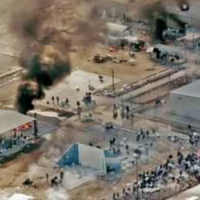 Fires rage during riot at Willacy Detention Center (photo: www.fwweekly.com/YouTube)
A private prison in Texas was the scene of a massive riot recently that has forced federal prison officials to transfer the inmate population to other facilities.
The Willacy Detention Center, operated by private contractor Management & Training Corp. (MTC), has had more than 720 inmates moved to other prisons. Another 2,100 inmates are awaiting transfer.
The U.S. Bureau of Prisons (BOP), which contracts with MTC to run Willacy, has said it will close the so-called tent-city prison to assess the damage from the riot. Officials told the Valley Morning Star that the prison was rendered "uninhabitable" following the uprising, which resulted in at least three of the prison's 10 Kevlar-covered domes being set on fire. Two officers and as many as five inmates reportedly suffered minor injuries during the melee, which began as a complaint about medical services at the prison.
It is unknown if BOP intends to repair and reopen the prison. Many local residents have expressed concerns that the prison may never reopen, which would cost the community about 400 jobs.
It's not the first trouble at the prison. A 2011 "Frontline" investigation found numerous complaints of sexual abuse of female inmates at the facility.
-Noel Brinkerhoff
To Learn More:
'Uninhabitable': Cold Temps Delay Prisoner Transfers (by Fernando Del Valle, Valley Morning Star)
After Uprising, Feds Retake Willacy Prison (by Ed Asher, Valley Morning Star)
Prison Officials: 2000 Inmates Involved in Prison Disturbance (Valley Morning Star)
How Much Sexual Abuse Gets "Lost in Detention"? (by Catherine Rentz, Frontline)
Willacy Detention Center (Wikipedia)