Unions Successfully Beat Back Movement to De-Militarize Police
Tuesday, December 02, 2014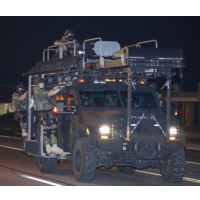 (photo: Bilgin Sasmaz, Anadolu Agency/Getty Images)
Critics of the post-9/11 trend of militarizing police forces across the United States thought the controversy in Ferguson, Missouri, would provide the momentum to roll back the armoring up of officers. But then the police unions showed off their power in Washington and reform efforts fizzed.
As Bloomberg's David Weigel wrote, even one of the most outspoken opponents of the federal 1033 program, which provides military surplus equipment to law enforcement, suddenly stopped talking about demilitarizing the police after labor groups lobbied Congress.
Senator Rand Paul (R-Kentucky) said in August: "We must demilitarize the police."
"The militarization of our law enforcement is due to an unprecedented expansion of government power in this realm," Paul wrote in an op -ed. "It is one thing for federal officials to work in conjunction with local authorities to reduce or solve crime. It is quite another for them to subsidize it."
Paul, however, has stopped making noise about changing 1033, as have other politicians. That's because groups like the National Sheriffs Association and the Fraternal Order of Police (FOP) had their members make phone calls to senators and representatives telling them how important it was to use military-type weapons for public safety purposes.
FOP Executive Director Jim Pasco told Weigel that the uproar over the shooting of Michael Brown was mostly "some members of Congress had kneejerk reactions to the optics of Ferguson or the rhetoric of Ferguson," said Pasco.
"They thought there was something problematic about the equipment they saw on the streets. In the intervening period, some of them have come to see that beauty is in the eye of the beholder. It's not what the equipment looks like, it's what its utility is," Pasco said.
-Noel Brinkerhoff
To Learn More:
How Police Unions Stopped Congress From 'Militarization' Reform (by David Weigel, Bloomberg)
Militarization of the Police…Ferguson Edition (by Noel Brinkerhoff, AllGov)
$4.2 Billion in Military Hardware Donations Fuels Militarization of U.S. Police Forces (by Danny Biederman and Noel Brinkerhoff, AllGov)