Undocumented Immigrant Women with Children Rarely Allowed to Stay…Unless They have a Lawyer
Saturday, February 21, 2015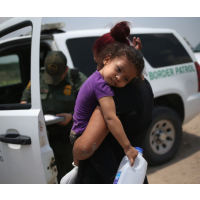 (photo: Getty Images)
No matter how dangerous it might be back in their home countries, undocumented immigrant mothers with children who don't have attorneys are virtually assured of being deported by the U.S. government.
The Transactional Records Access Clearinghouse (TRAC) at Syracuse University, using federal documents obtained through the Freedom of Information Act, discovered that immigration courts under the Obama administration adopted rules last year that pushed cases involving women with children to the head of the line.
TRAC's analysis of 26,342 adults-with-children cases found that fewer than 30% of the families were able to find a lawyer to help them, and those immigrants were allowed to stay in the United States only 26.3% of the time. Of those who didn't have an attorney, 98.5% lost their case and were deported.
-Noel Brinkerhoff
To Learn More:
Representation is Key in Immigration Proceedings Involving Women with Children (TRAC Immigration)