TSA Spreads to Trains, Subways, Bus Terminals and Ferries
Wednesday, January 04, 2012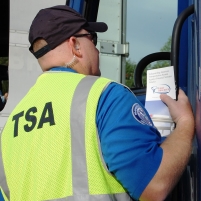 (photo: TSA)
These days, special teams of TSA officials can be seen appearing randomly at the country's train stations, bus depots and ferry launches. Twenty-five "viper" (Visible Intermodal Prevention and Response) teams have made 9,300 unannounced visits at various transportation centers around the U.S. These included testing passenger bags for explosive residue at a Greyhound station in Orlando, Florida; inspecting trucks at weigh stations in Tennessee; checking passengers of cruise ships in the Carolinas; and inspecting spectators at NASCAR races and tourists boarding ferries in North Carolina.
The
Department of Homeland Security
says the viper teams should be expanded in number and has requested funding for about a 50% increase. The FY 2011 TSA budget for non-airport operations (a.k.a. "surface transportation security") was $110 million.
Federal officials won't say if the TSA has foiled any terrorist attacks outside airports. But terrorist attacks on trains and subways have occurred in Spain, Russia, India and England.
-Noel Brinkerhoff, David Wallechinsky
Tennessee First State to Allow TSA Highway Random Search Program (by David Wallechinsky and Noel Brinkerhoff, AllGov)