Trump's Promised Reform of Federal Workforce Triggers Fears that Civil Service Protections Will Be Stripped
Tuesday, December 06, 2016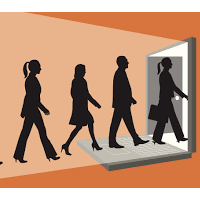 (graphic: Patrick George, Getty Images)
By Barrie Barber, New York Times
DAYTON, Ohio -- Thousands of federal employees at Wright-Patterson Air Force Base and around southwest Ohio could face changes in pay, benefits and workplace rules if suggested civil service reforms are enacted, observers say.
It's not clear what specific reforms will be proposed once President-elect Donald Trump takes office, but with Republicans controlling both houses of Congress the mood for change is strong.
The Republican National Committee's platform says the federal workforce is "larger and more highly paid than ever," with "pension benefits and vacation time wildly out of line with those of the private sector."
Changes urged by the RNC include making it easier to fire poorly performing federal workers and banning union representatives from conducting business on federally paid work time.
Democrats and members of public employees unions fear a whole range of civil service protections will be stripped away by the Republican Congress and incoming Republican president.
"We're going to be playing defense for at least a couple of years," acknowledged William R. Dougan, president of the National Federation of Federal Employees, the third-largest federal union.
On the campaign trail, Trump vowed to put a 100-day freeze on federal hiring but exempted the military, public safety and public health personnel.
The president of the union that represents thousands of civil service employees at Wright-Patterson says he has sensed concern among his members.
"We've got a lot of work to do with this administration," said Troy Tingey, president of the American Federal of Government Employees Council 214. "But we're also going to have a lot of work to do with both the House and Senate so they don't get running too rampant."
Tingey disputed the claim a hiring freeze saves money. In many cases, he said, federal authorities are forced to hire contractors to meet work demands.
"Federal employees can do the job cheaper," he said. "The job still has to get done."
Congressional debate
Some members of Congress clearly want to rein in spending on federal employees.
"For too long, politicians have been math deniers," said Alexi Woltronist, a communications director for U.S. Rep. Warren Davidson, R-Ohio. "We have a serious debt and spending problem that needs to be addressed immediately, and government bureaucracy certainly contributes to this. It is immoral to burden our next generation with crippling debt because we do not want to make hard decisions."
Woltronist called many of the reforms proposed by Republicans "no-brainers."
"Most Americans are shocked when you tell them that inept bureaucrats cannot be fired and they often receive automatic raises," he said in an email. "We are long overdue to restoring accountability and efficiency to this sector of government."
Democrats and federal employee unions are preparing to fight the image of government workers as a privileged class and the bureaucracy as a bloated mess.
U.S. Rep. Gerald E. Connolly, D-Va., whose Northern Virginia district includes thousands of federal workers, said: "What study are they citing saying there are too many federal employees? Are you going to make a bunch of exceptions, in which case your plan looks like Swiss cheese?"
U.S. Rep. Elijah Cummings, D-Md., the top Democrat on the House Committee on Oversight and Government Reform, said in an email that he would "fight any effort to roll back civil service protections." Among other things, he worries that whistle blowers could lose their legal right to be immune from retaliation.
Evan W. Osborne, interim chairman of economics at Wright State University, said civil servant protections date to the late 1800s when federal employees couldn't be fired on the whim of new administrations coming to power after an election.
"The idea of civil servant protections has a long history in the country," Osborne said. "... You can always vote the bums out, but the people who do the bums' dirty work stay."
Tingey said the federal hiring process can be improved. The time to gain a security clearance is lengthy, for example, and often delays hiring for months.
But he defended the right of employees to union representation and due process if facing termination.
"Everybody should have due process," he said. "Our due process is built on the military's due process."
'Significant' reforms expected
Southwest Ohio has a huge stake in whatever reforms take place. Wright-Patterson is the largest single-site employer in Ohio, with an estimated workforce of more than 27,000 military personnel, civil service and contractor employees.
U.S. Office of Personnel Management figures show the Dayton region had a workforce of more than 16,000 federal civil service workers, of which more than 13,000 worked for the Air Force or Department of Defense, according to 2013 figures. The Dayton VA Medical Center has more than 2,000 employees. Clark County is home to Springfield Air National Guard Base, which has hundreds of Guardsmen who carry a dual status as civilian employees.
The federal workforce has 2.1 million civilian workers.
According to the Dayton Development Coalition, the average direct payroll of a Wright-Patterson employee is $82,048 compared to $60,037 at Department of Defense facilities in Ohio. Wright-Patterson is home to many highly trained engineers and scientists at the Air Force Research Laboratory and elsewhere on the base.
Gregory R. Lawson, a senior policy analyst at the Buckeye Institute, a conservative free market think tank in Columbus, Ohio, says he expects big changes.
"I think you will see probably the most significant civil service reform probably in a generation," said Lawson, who argues that it makes sense to bring pay and benefits more in line with the private sector.
"Your average person in the private sector doesn't get a lot of those perks," he said.
Monica Moran, executive director of the liberal think tank Progress Ohio, said cutting pay and benefits of federal employees won't achieve the desired effect of helping the economy.
"I would say overall the less financial security people have the less they're going to spend in their local economy," she said.
More hiring flexibility sought
Trump campaign officials did not respond to an email seeking clarification on whether the proposed hiring freeze would exempt Defense civil service employees as well as uniformed service members.
But Michael Gessel, Dayton Development Coalition vice president of federal programs, said civilians working for the Defense Department shouldn't be affected, based on the Trump campaign's Contract with the American Voter (pdf), which cites the military as an exemption to the hiring freeze proposal.
"Looking at Wright-Patterson, the most significant personnel changes are those that allow more flexibility in hiring and changing pay," Gessel said. "Those are probably the personnel management changes that would be most helpful to Wright-Patterson."