Toxic Chemicals found Transferred from Human Breast Milk to Babies
Wednesday, September 09, 2015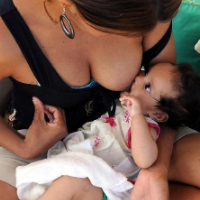 Silvia Izquierdo/AP
A new study shows toxic chemicals found in common household products can be absorbed by women and passed on to infants through breastfeeding.
Researchers from Harvard University's T.H. Chan School of Public Health and from European institutions found that perfluorinated alkylates (PFAS) are sometimes fed to newborns through mother's milk. PFAS are a class of industrial chemicals and cancerous toxins used to repel water, grease and stains in sleeping bags, pizza boxes, cookware, waterproof clothing and other common household products.
These chemicals, the Harvard study showed, can bioaccumulate in food chains and stay in human bodies for extended periods of time. PFAS have been "linked with reproductive toxicity, endocrine disruption, and immune system dysfunction," researchers reported, according to AlterNet. The PFAS concentrations grew in infants' bodies as the breastfeeding continued.
Philippe Grandjean, adjunct professor of environmental health at Harvard Chan School, said in a press release: "There is no reason to discourage breastfeeding, but we are concerned that these pollutants are transferred to the next generation at a very vulnerable age.
"Unfortunately, the current U.S. legislation does not require any testing of chemical substances like PFASs for their transfer to babies and any related adverse effects."
-Noel Brinkerhoff
To Learn More:
Why Breastfeeding in the Industrial Age Could Fill Your Baby with Toxic Chemicals (by April M. Short, AlterNet)
Breastfeeding May Expose Infants to Toxic Chemicals (Harvard School of Public Health)
Breast Milk for Sale versus Breast Milk Banks (by Noel Brinkerhoff and Danny Biederman, AllGov)