Top Navy Officials Arrested in Bribery Scandal Involving Prostitutes, Cash, and Lady Gaga Tickets
Wednesday, October 23, 2013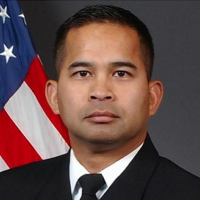 Michael Misiewicz (photo: U.S. Navy)
The U.S. Navy faces one its biggest fraud cases in years following the discovery of officers accepting bribes in the form of sex, money and tickets to a Lady Gaga concert.
The scandal has threatened the careers of senior officers who accepted kickbacks from a Singapore-based defense contractor, Glenn Defense Marine Asia.
The company's chief executive and another company official have been arrested, along with a senior agent for the Naval Criminal Investigative Service (NCIS) and a Navy commander who escaped Cambodia's "killing fields" to become the skipper of a U.S. destroyer, according to The Washington Post.
Glenn Defense Marine, which has serviced and supplied Navy ships and submarines at ports around the Pacific for 25 years, was accused of repeatedly overbilling the Navy for everything from tugboats to fuel to sewage disposal, federal prosecutors say.
At least $10 million in alleged fraud has been found so far, with potentially more to come.
The activity began in 2010 when Glenn Defense's chief executive, Glenn Francis, and company colleagues pursued Asia-based Navy personnel in an operation designed to acquire inside Navy information. The firm's targets included Commander Michael Misiewicz "as someone who might be susceptible to providing favor…in return for things of value," according to court documents.
Misiewicz is a native of Cambodia who made it to the U.S.in 1973 just before his country fell into bloody revolution, wherein his family members would die at the hands of the Khmer Rouge. A Naval Academy graduate, he became commander of a U.S. destroyer, which put him into contact with Glenn Defense. He subsequently became deputy operations manager for the Navy's 7th Fleet.
Francis showered Misiewicz, and possibly another commander, with Japanese prostitutes, luxury hotel rooms, cash, plane tickets, and even a Lady Gaga concert being held in Thailand. This was done in trade for ship deployment data and to get aircraft carriers and other vessels steered to ports where Glenn Defense could overcharge the Navy for its services.
During a period of two years, NCIS agent John B. Beliveau II supplied Francis with inside tips regarding the status of government investigations into his company. In exchange for that, Beliveau also was provided with prostitutes and free travel by Francis.
It is unusual for military commanders to get swept up in contracting scandals. In this case, the accepting of kickbacks led prosecutors to go after the officers in question.
"Allegations of bribery and kickbacks involving naval officers, contracting personnel and NCIS agents are unheard of," retired Admiral Gary Roughead, a former chief of naval operations, told the Post.
The Navy had three major contracts with Glenn Defense Marine worth nearly $200 million. They have all been cancelled.
-Danny Biederman, Noel Brinkerhoff
To Learn More:
Senior Officer, NCIS Agent Are among Those Arrested in Navy Bribery Scandal (by Craig Whitlock, Washington Post)
Cover-Up of Prostitution Solicitation by U.S. Ambassador and State Department Personnel Alleged (by Noel Brinkerhoff and Danny Biederman, AllGov)
FBI Accused of Hiring Underage Prostitutes to Trap Gun Traffickers (by Noel Brinkerhoff, AllGov)
More People Follow Lady Gaga on Twitter than Live in Israel (by Noel Brinkerhoff, AllGov)