Texas Officials Urge Ban on Bite Mark Evidence
Saturday, February 13, 2016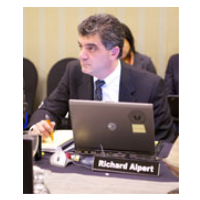 Texas Forensic Science Commission member Richard Alpert--Credit: TFSC
By Paul J. Weber, Associated Press
AUSTIN, Texas — Texas has become the first state to call for a ban on allowing bite mark evidence, which legal experts say is likely to reverberate in courtrooms across the U.S.
The Texas Forensic Science Commission formally recommended Friday that judges stop accepting bite mark analysis until the technique is supported by better research. There's currently no scientific proof that teeth can be definitively matched to human skin.
The commission cannot outright ban bite mark evidence. But a state scientific agency recommending even a temporary halt to the use of bite mark evidence would be unprecedented, legal experts say, and cause prosecutors and judges across the country to take notice.
At least two dozen men convicted or charged with murder or rape based on bite marks have been exonerated nationwide since 2000. Critics say it is long overdue that the practice joins other discredited evidence such as bullet-lead analysis and microscopic hair analysis.
"It's too subjective. There is no criteria. As a result, I'm ready to face the absence of it in court, rather than have it be used," said Richard Alpert, a commission member who is also a prosecutor in Fort Worth.
Texas, which leads the nation in executions, carries a tough-on-crime reputation. But the state has actually been a leader nationally in reforms in recent years, said attorney Chris Fabricant of the New York-based Innocence Project. Texas led the nation again last year in exonerating wrongfully convicted or charged people.
Putting new scrutiny on bite marks has thrust the obscure Texas Forensic Science Commission into the national spotlight for the second time in recent years — but this time less controversially. In 2009, then-Gov. Rick Perry abruptly removed three people from the state board just 48 hours before commissioners were to consider a report that a faulty investigation led to a Texas man's execution.
A later ruling by then-Attorney General Greg Abbott, now the Texas governor, effectively ended in an inquiry into the evidence that convicted Cameron Todd Willingham, who was executed for the arson deaths of his three children.
Bite mark evidence supporters argue the practice has helped convict child killers and serial killer Ted Bundy. Commissioner Harvey Kessler said the agency could revisit supporting bite mark evidence under strict guidelines if better research comes back, but said that putting that research and better criteria together is up to small and mostly ungoverned group of dentists who defend the practice.
Kessler said he could still imagine scenarios in which judges overlook the agency's rebuke of bite mark evidence, but defended the moratorium as done in the interest of justice.
Peter Bush, a University at Buffalo researcher and leading opponent of bite mark evidence, said other states would likely follow Texas' lead.
"The Texas position would potentially create a domino effect," said Bush, who did not attend Thursday's meeting. "Other states would follow their recommendations."
To Learn More:
FBI Errors Lead to Discovery that DNA Evidence May be Far Less Foolproof When It Includes More than One Person (by Noel Brinkerhoff and Steve Straehley, AllGov)
300th Wrongly Convicted American Released Thanks to DNA Evidence (by Matt Bewig, AllGov)