Terror Suspects Buy Guns Legally in U.S.
Monday, November 23, 2015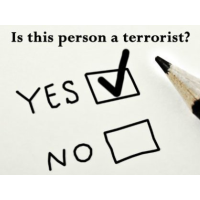 (photo: Getty Images)
Try getting on a plane if your name is on the federal government's terrorist watch list. You'd never be allowed on the flight. But don't worry—all is not lost. You can console yourself by buying a gun.
Despite eight years of efforts by Democrats and even some Republicans to close this dangerous loophole, the National Rifle Association (NRA) and its friends in Congress have managed to block legislation that would keep those on the watch list from buying weapons.
As a result, from 2004 to 2014, 2,043 suspected terrorists were able to buy firearms, according to a Government Accountability Office (GAO) report. Only about 9% of requests by such individuals were denied.
U.S. law prohibits domestic abusers, drug addicts, fugitives and felons from buying guns, but not individuals who are suspected of being a terrorist. "Membership in a terrorist organization does not prohibit a person from possessing firearms or explosives under current federal law," the GAO wrote in its report.
There are about 700,000 people on the terrorist watch list, and none of them are prohibited from buying a gun as a consequence of their inclusion on that list.
Senator Dianne Feinstein (D-California) and Representative Peter King (R-New York) proposed another bill earlier this year that would enable the government to block such sales. It takes on added significance after the recent Paris terror attacks. "One of the most important things we can do to keep this country safe is keep guns and other weapons out of the hands of potential terrorists," Feinstein told ABC in a statement on Tuesday. "The majority of the victims in Paris were shot with Kalashnikov rifles, which are sold at gun dealers and gun shows across this country. There is simply no excuse for Congress to not close this dangerous loophole."
But Senate Majority Leader Mitch McConnell (R-Kentucky) has shown no inclination to give Feinstein's bill a hearing. In the House, new Speaker Paul Ryan (R-Wisconsin) similarly is in no rush to offend his backers in the NRA. When asked Thursday if he would consider bringing up a bill to address the problem, his answer was the definition of a non-response. "We are just beginning this process of reassessing all of our security stances," he said of a "process" that began on September 11, 2001.
The NRA has refused to support Feinstein's plan, claiming it's concerned about those unfairly on the watch list being denied the opportunity to purchase firearms. In spite of the gun organization's vehement opposition to years of such legislative efforts, 76% of American gun owners, including 71% of NRA members, have supported prohibiting people on the terror watch list from purchasing guns in the U.S., according to a 2012 survey conducted by conservative pollster Frank Luntz.
-Steve Straehley
To Learn More:
From 2004 to 2014, Over 2,000 Terror Suspects Legally Purchased Guns in the United States (by Christopher Ingraham, Washington Post)
Individuals on FBI's Terrorist Watchlist Allowed to Legally Purchase Firearms (by Geneva Sands, ABC News)
Paul Ryan Balks over Blocking Gun Sales to People on Terror Watch List (by Michael Biesecker and Alan Fram, Huffington Post)
Large Numbers of Americans Think Existing Guns Laws are Stronger than They Really Are (by Noel Brinkerhoff, AllGov)
Obama Considers Making it Easier to Sell Firearms Abroad (by Noel Brinkerhoff, AllGov)
ATF Loosens Restrictions on Gun Sales to Foreigners (by Noel Brinkerhoff, AllGov)