Suit Ties Pop Warner Football to Adults' Deaths
Wednesday, September 07, 2016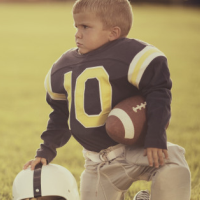 Credit: Andrew Rich via Getty Images
By Don Debenedictis, Courthouse News Service
LOS ANGELES — In a federal class action, two mothers — one of them a consultant in the $1 billion NFL concussion litigation — trace their adult sons' deaths to brain injuries they suffered playing Pop Warner youth football.
Kimberly Archie and Jo Cornell sued Pop Warner Little Scholars and two other organizations, claiming they failed to protect children from head trauma while playing tackle football and misled parents about safety policies, coaches training and helmet standards.
Due to "gross negligence and fraudulent misrepresentations," children "suffered repeated head trauma, including multiple concussions, which has led to severe chronic brain injuries, including but not limited to depression and Chronic Traumatic Encephalopathy," the women say in the Sept. 1 federal lawsuit.
There are two other defendants. The National Operating Committee on Standards Athletic Equipment "sets the standards for athletic equipment safety," the complaint states. The mothers call NOCSEA "a self-appointed standard setting body whose members' primary focus is to generate profits."
The third defendant is USA Football, which the complaint describes as "the official youth football development partner of the NFL and its thirty-two teams."
The mothers demand, among other things, that Pop Warner be ordered to put warning labels on helmets about the dangers of brain injury from tackle football.
Archie's son, Paul Bright Jr., played Pop Warner football for seven years, beginning when he was 7 years old. He died in a motorcycle crash at 24 after several years of increasingly erratic and reckless behavior, his mother says.
Cornell's son, Tyler Cornell, played for five years, beginning when he was about 8. He developed "behavioral issues" and depression, and committed suicide when he was 25.
Autopsies showed that both young men had CTE.
Litigation over sports-related brain injuries has not declined since the NFL settled a multi-billion consolidated case from pro football players. That agreement, approved by an appellate court in April, could give as much as $5 million to each of 20,000 NFL players who develop symptoms in the next 65 years.
Players and former players from the National Hockey League and major college athletics conferences have filed class actions of their own.
Pop Warner this year had settled two lawsuits involving young players with neurological injuries. Archie's and Cornell's complaint is the first such class action.
Representatives for Pop Warner and USA Football could not be reached for comment late Friday.
Mike Oliver, the NOCSEA executive director and legal counsel, said he had just begun to read the complaint and was not prepared to comment on it.
"This is the first time we've been sued as a defendant in any litigation in 20 years or more," Oliver said.
The mothers say that Oliver's group claims that all Pop Warner helmets meet NOCSEA standards, while concealing that "there are no youth-specific helmet safety standards."
They also claim the defendants told parents — falsely — that a Football USA training program for coaches, Heads Up Football, reduced injuries by 87% compared to other youth programs.
The New York Times reported, however, that the study cited by Football USA actually found no meaningful reduction in injuries.
Archie and Cornell say that their sons' deaths, and other young players' problems, could have been avoided had the defendants established proper guidelines and procedures, provided safe helmets and trained coaches how to recognize, prevent and treat brain injuries.
Instead, the mothers say, "The defendants acted willfully, wantonly, egregiously, with reckless abandon, and with a high degree of moral culpability" and with "callous indifference to the rights and duties owed to plaintiffs ... and the public at large."
Archie's involvement in youth sport safety long precedes her son's death. A onetime cheerleading coach and McDonald's trainer, Archie is a paralegal who started an organization to promote cheerleader safety after her daughter broke an arm during practice. Her work broadened to encompass all youth sports, and eventually the NFL concussion litigation, in which she served as a consultant, according to news stories and online profiles.
Among the plaintiffs' law firms she worked with in the NFL case was Girardi Keese, which represents her and Cornell in the new class action.
Firm partners Thomas Girardi and Robert Finnerty could not be reached for comment late Friday.
The mothers seek class certification and punitive damages for negligence, fraud, misrepresentation, unfair competition and false advertising, and a court order banning deceptive practices and requiring warning labels on youth football helmets.
To Learn More:
Playing in the NFL is a Dangerous Job: 250 Players Dealing with Injuries after Second Week of Games (by Noel Brinkerhoff and Steve Straehley, AllGov)
New State Law Favors Wealthy NFL Owners over Damaged Ex-Players (by Ken Broder, AllGov)