Subpar Patient Care at Military Hospitals Spurs Defense Secretary to Order Corrections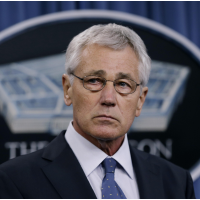 Chuck Hagel (AP photo)
The U.S. military's hospitals recently graded out at about a "C," according to a study released Wednesday, which in the eyes of Secretary of Defense Chuck Hagel is failing and he has ordered improvements to be made.
Hagel said he expects the system of 54 hospitals and hundreds of clinics serving defense personnel to improve services in many key areas, particularly access to treatment, quality of care and patient safety. Administrators have 30 to 90 days to report to Washington on how they intend to make improvements.
Telling the media "we cannot accept average," Hagel wants the military to develop "the top performing system we all want and expect it to be."
The declaration was motivated by a lengthy report from a panel of military and civilian experts that found the system "provides good quality of care that is safe and timely," but has also failed to consistently meet standards for quality, safety or access to treatment, according to The New York Times.
For instance, at about 20% of medical facilities, patients cannot get an appointment within 24 hours for non-emergency acute care.
The report also revealed that some military medical providers were reluctant to file safety reports because they feared retaliation from superiors. "That piece of the report frankly worried me a lot," Lieutenant General Thomas Travis, the surgeon general of the Air Force, told the Times. "When I saw fear of retribution — that is something we just can't tolerate."
Hagel sent a memo to the heads of the armed services outlining changes he wanted made, including deadlines for compliance. The four broad categories targeted are Access to Care; Quality and Safety of Care; Transparency and Patient Engagement; and High Reliability Organization, or turning military healthcare into a top-quality system.
-Noel Brinkerhoff
To Learn More:
Hagel Orders Military to Fix Underperforming Medical Centers (by Sharon LaFraniere and Andrew W. Lehren, New York Times)
Military Health System Action Plan for Access, Quality of Care, and Patient Safety (Secretary of Defense)
Final Report to the Secretary of Defense: Military Health System Review