South Carolina Judge Voids Murder Conviction of 14-Year-Old…70 Years after he was Executed
Sunday, December 21, 2014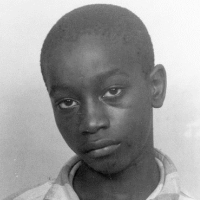 George Stinney Jr. (photo: South Carolina Department of Archives and History)
The conviction of a 14-year-old boy who was found guilty of the March 1944 murder of two girls in South Carolina was vacated last week because a judge found the defendant's rights had not been adequately safeguarded by the prosecution.
George Stinney Jr., who was black, was charged with murder for the death of 11-year-old Betty June Binnicker and 7-year-old Mary Emma Thames, who were white. He was arrested after a neighbor said she'd seen Stinney talking to the girls shortly before they disappeared. Stinney confessed to police, but later said the confession had been coerced.
Stinney, who was represented by a tax attorney, was found guilty in a trial lasting one day. The jury of 12 white men deliberated only 10 minutes before reaching a verdict.
Stinney's siblings recently sought pro bono assistance in having the conviction overturned because they said their brother was denied a fair trial. A defense forensic psychologist testified last January that Stinney "was coerced into confessing to the crimes due to the power differential between his position as a 14-year-old black male apprehended and questioned by white, uniformed law enforcement in a small, segregated mill town in South Carolina."
Judge Carmen T. Mullen of Circuit Court didn't rule on the merits of the prosecution's case because of the lack of transcripts and case files. However, she noted the violations of Stinney's rights, writing "We know that law enforcement separated the defendant from his parents and otherwise took advantage of his age and stature to garner a result they predetermined to be true and just. This confession simply cannot be said to be known and voluntary, given the facts and circumstances of this case highlighting the defendant's age and suggestibility."
She threw out the conviction, writing "This court finds fundamental, constitutional violations of due process exist in the 1944 prosecution of George Stinney, Jr. and hereby vacates the judgment."
Despite flaws in the conviction that would appear to be obvious, the state of South Carolina still opposed the efforts to vacate the conviction. "Back in 1944, we should have known better, but we didn't," Ernest A. Finney III, solicitor for the Third Circuit Court in Sumter, who was opposing the request on the state's behalf, said in January, according to The New York Times. "The fact of the matter is, it happened, and it occurred because of a legal system of justice that was in place."
-Steve Straehley
To Learn More:
South Carolina Judge Vacates Conviction of George Stinney in 1944 Execution (by Campbell Robertson, New York Times)
Family of South Carolina Boy Put to Death Seeks Exoneration 70 Years Later (by Alan Blinder, New York Times)
S.C. Teen Exonerated 70 Years After Execution (by Iulia Filip, Courthouse News Service)
Too Young to Die—The Execution of George Stinney Jr. (by Mark R. Jones)