Shipping of North Dakota Oil Puts a Hold on Grain Distribution
Thursday, August 28, 2014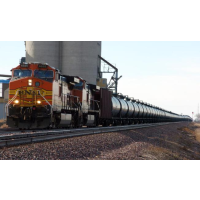 Oil train (photo: Matthew Brown, AP)
The oil bonanza that has enriched North Dakota's economy hasn't made money for everyone in the state, particularly farmers struggling to load their crops on trains monopolized by petroleum shipments.
The situation has led to agricultural goods sitting around at risk of rotting, which could result in huge financial losses for an industry that used to be the state's most important. "Agriculture was North Dakota's No. 1 industry for decades, representing a quarter of its economic base, but recent statistics show that oil and gas have become the biggest contributors to the state's gross domestic product," Ron Nixon reported for The New York Times.
The situation has been made worse because farmers are harvesting a bumper crop of wheat and soybeans, with corn nearing a record.
One of the state's key railroads, Canadian Pacific, says it won't be able to fulfill nearly 30,000 requests from farmers and others for space on rail cars during September. The Burlington Northern Santa Fe Railway (BNSF), the state's largest railroad, has a backlog of 1,336 rail cars loaded with grain and other products not going anywhere.
Farmers have complained to their representatives in Washington, who in turn are calling on the Surface Transportation Board, which regulates the nation's railroads, to pressure rail shippers to make room for crops. Grain shippers say their shipments are taking a backseat to petroleum products, but the railroads deny that's the case. "Of course, the big difference in what we are shipping these days is oil," Matthew K. Rose, the executive chairman of BNSF, told The Times. "But we aren't favoring one type of product over another."
The shortage of space for grain shipments will be felt on the nation's breakfast tables. General Mills said it lost 62 days of production last winter partly because of rail congestion.
-Noel Brinkerhoff
To Learn More:
Grain Piles Up, Waiting for a Ride, as Trains Move North Dakota Oil (by Ron Nixon, New York Times)
Oil Trains Crowd Out Grain Shipments to NW Ports (by Angel Gonzalez, Seattle Times)
5 States Refuse to Reveal Details of Oil-Train Routes and Volumes; Montana Disagrees (by Noel Brinkerhoff and Steve Straehley, AllGov)
More Oil Spilled from Trains Last Year than in Previous 37 Years Combined (by Noel Brinkerhoff, AllGov)