Senate Takes First Step to Allow Vets to Use Medical Marijuana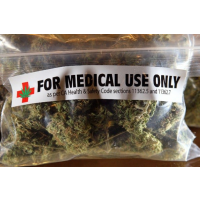 (photo: Justin Sullivan, Getty Images)
The Senate Appropriations Committee voted Thursday to allow Veterans Administration doctors to recommend marijuana as a therapy for their patients in states that allow medical use of the drug.
The amendment, sponsored by Sen. Steve Daines (R-Montana) and Sen. Jeff Merkley (D-Oregon), was attached to a Defense Department spending bill that is seen as one that almost certainly will be passed by the full Senate.
"Veterans in medical marijuana states should be treated the same as any other resident, and should be able to discuss marijuana with their doctor and use it if it's medically necessary," Drug Policy Alliance policy manager Michael Collins said in a press release. "They have served this country valiantly, so the least we can do is allow them to have full and open discussions with their doctors."
Marijuana can help treat post-traumatic stress disorder (PTSD) and traumatic brain injury, two conditions common with veterans returning from Afghanistan and Iraq. According to the Drug Policy Alliance, a 2014 study of those with PTSD showed a greater than 75% reduction in severity of symptoms when patients were using marijuana to treat their illness, compared to when they were not.
Physicians getting other government funding, such as for those on Medicare, Medicaid and the Children's Health Insurance Program (CHIP), are already allowed to recommend marijuana to patients in states where it's legal to do so. Twenty-three states and the District of Columbia currently allow some form of medical marijuana.
The House of Representatives voted down a similar amendment last month so it's questionable whether the Senate amendment will make it to the final bill presented to President Barack Obama for his signature.
-Steve Straehley
To Learn More:
In Historic Vote, Senate Appropriations Committee Approves Veterans Medical Marijuana Amendment (Drug Policy Alliance)
Senate Committee Passes Bill Allowing Doctors to Recommend Medical Marijuana to Veterans (by Carimah Townes, ThinkProgress)
Senate Committee Approves Historic Measure to Increase Veterans' Access to Medical Marijuana (by Matt Ferner, Huffington Post)
House Bill Would Permit VA Doctors to Use Medical Marijuana as Option for Patients (by Noel Brinkerhoff, AllGov)